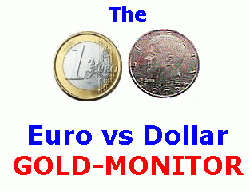 Thank You
Thank you so much ofr your one-year recurring subscription to the Euro vs. Dollar Gold Monitor. Your first issue and your two special bonuses will arrive in your email inbox together with your monthly password very shortly (usually within 6 - 12 hours).
In the meantime, please feel free to browse the web site or check out the Members' Lounge for some important charts and other information.
If you have any problems, concerns, or questions, please email me any time.