In US Dollars: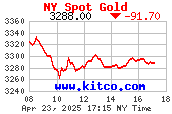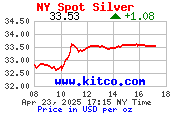 In Euros: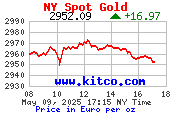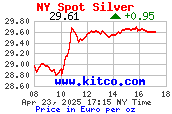 In Pound Sterling: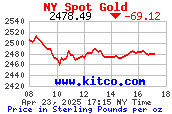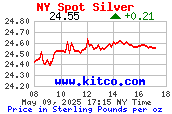 The Spot Price for Gold & Silver
The spot price for gold, silver, is the price for immediate (i.e., "on-the-spot") delivery at the exchange from which the price is quoted. "Immediate" here means that delivery must be taken within eight hours from the time of the contract in order for the pot price to apply.
The most widely watched spot prices for gold and silver are those quoted on the New York Commodities Exchange (COMEX). It is important to understand, however, that the COMEX is not a bullion exchange but rather a paper-trading exchange. Only about ten percent of all transactions on this exchange are for immediate delivery of bullion.
In the right margin are real-time spot price charts for gold and silver expressed in terms of US dollars, euros, and British pound sterling.
It is very important to understand that the prices for gold and silver are rising - and have been rising - in all major currencies, not just the dollar. This is strong evidence that people around the world realize that all is not well in fiat-currency land.