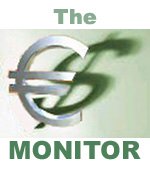 Euro vs Dollar & Gold Monitor
October 2008 Issue (#51)
WHAT'S IN THE BAILOUT ACT?
The theoretical Reach of this legislation Is unlimited
The central idea underlying this Act is to allow the fedgov to buy up bad assets that pollute the balance sheets of banks and other financial institutions. The legislative term they have employed to describe these financial black holes is "troubled assets".
The problem is that the definition of this term is written in such a way that it is essentially left up to the Secretary of the Treasury to say what it means. Here is the text:
(9) TROUBLED ASSETS- The term 'troubled assets' means--(A) residential or commercial mortgages and any securities, obligations, or other instruments that are based on or related to such mortgages, that in each case was originated or issued on or before March 14, 2008, the purchase of which the Secretary determines promotes financial market stability; and
(B) any other financial instrument that the Secretary, after consultation with the Chairman of the Board of Governors of the Federal Reserve System, determines the purchase of which is necessary to promote financial market stability, but only upon transmittal of such determination, in writing, to the appropriate committees of Congress.
Sounds like this means that Paulson and any successor in office have authority to "determine" that the purchase of your mortgage "promotes financial market stability" and so becomes subject to purchase by the government, at will. Naturally, what the government can buy, it can also foreclose on. Let's keep that thought for later.The Secretary is given authority in this Act to determine, by regulation 1. Mechanisms for purchasing troubled assets.2. Methods for pricing and valuing troubled assets.3. Procedures for selecting asset managers, and4. Criteria for identifying troubled assets for purchase.That means he has exclusive, unchecked power. Is your home in an area where home prices are threatening to deteriorate catastrophically? The Secretary now has authority to "identify" it as a "troubled asset" for purchase – even if your mortgage is current and you have no problem paying it, and even if you think you own your house "free and clear." How so? Because the word "instruments" in paragraph (A) above is nowhere defined in law. Under a slightly tortured interpretation, "instruments" can include your paid-off home.
Under constitutional muster, this wouldn't pass. It is unconstitutionally vague – but do you think any court is going to impose any limit on what the Secretary can decide? Maybe. Maybe not – but at least one big worry is now gone. When Paulson submitted this bill to Congress, it had the following language in his proposal:
"Decisions by the Secretary pursuant to the authority of this Act are non-reviewable and committed to agency discretion, and may not be reviewed by any court of law or any administrative agency."
Fortunately, enough people in Congress got scared when this language made it onto the internet and caused a ruckus, so they substituted provisions for review by US courts (Section 119 in the version).
Oh, yes, and just in case you are worried that banks will gain a financial windfall by now being able to sell their worthless loans to you via the fedgov, rest at ease. "Unjust enrichment" is not permitted under the Act – except when it comes to financial institutions that are in receivership, have declared bankruptcy, or were acquired in a corporate merger. Makes sense? Go figure.
Uhm, yeah, no sooner did I write this as I scroll through only the first three sections of the Act, do I find the following:
In exercising the authorities granted in this Act, the Secretary shall take into consideration … the utility of purchasing other real estate owned and instruments backed by mortgages on multifamily properties.
It's so easy to read these guys minds. This goes back to Paulson or any of his successors having the power to buy your home if they feel like it. No strings attached. Now, the government effectively owns your house. The mortgage you are paying? You're paying it to a bank, which is now an official agent of the government (see just below). If your mortgage is already paid off, your house still falls under the category of "other real estate owned" quoted just above – and the "utility" of possibly buying it is what Paulson is told to "consider" when he executes his powers under this Act.
Your Bank is Now Officially A Financial Agent of the Federal Government!
Under previous legislation, banks were already required to perform work that resembled work done by agents of the federal government. Now, under the bailout package just signed into law, the Secretary of the Treasury (currently Paulson) has authority to "designate" any "financial institution" as an agent of the fedgov, upon which designation that bank is required to do whatever it is told. There is no limitation on this new duty of banks that are conscripted in this way, other than that whatever they are forced to do must be "related to this Act." Language cannot possibly be any looser than that.
Of course, keep in mind that the term "financial institution" has long ago (in 2003) been defined to include gold dealers and even boat dealerships! http://www.321gold.com/editorials/wallenwein/wallenwein120903.html It wouldn't surprise me at all if they declared even head of households with bank accounts to be "financial institutions" that come under their direct control. Such are the ravages of socio-fascist totalitarianism – which we are no longer just "sliding towards." We have arrived!
There is far more bad, totalitarian news in this bailout bill, but we won't go into every jot and tittle of it. Suffice it to say that it is such a poorly written piece of legislation that it resembles a white house press release – and one that Baby Bush has written (or maybe just dictated) himself.
Now, let's turn to what it will do, even if it is assumed to operate as advertised, and that means minus all of the would-be despotic garbage I just pointed out.
THE AFTERMATH
The United States just had itself an economic and legislative all-nighter. The spiked cool-aid of power-lust was flowing freely, and those in high places had a ball. The problem is that the inevitable hangover won't be felt by them. The hangover is what the rest of the country gets to deal with after all the executive vomit is cleaned off the floor the morning after.
Let's assume, for the purpose of this hypothetical excursion into the very near future, that "troubled assets" really means only defaulted-upon mortgages, whether subprime or prime, whether bundled or unbundled, and commercial paper backed by the same. What will be the effect if an initial 350 billion newly-created electronic dollars are used to transfer this spawn of American profligacy onto the federal government's balance sheet.
How does Paulson go about buying this stuff on our behalf?
Well, he won't. He's not going shopping, hopping form bank to bank and looking at each bank's balance sheet to see if it contains bad loans. It's the other way around. Banks who want to offload their slime will approach Hankie and say: "Hey, look, we have this "troubled balance sheet because we loaned too much money to the wrong people and invested in other crap that is backed by other bad debt that was created in the same way by other banks and financial institutions. Won't you please help us out?"
"Sure," goes Mr. Hankie. "How much would all your garbage be worth if no borrower had ever defaulted on his mortgage?"
"Oh, two years ago we could have offloaded this garbage onto a returns-starved hedge fund for, say, ten billion dollars."
"Ten billion dollars?" queries Mr. Hankie. "Well, we'll pay you 9.8 billion. After all, it's our job to protect the taxpayer (snicker) so we can't pay you full value. You understand that, don't you (snicker) – whereupon Mr. Hankie goes off and auctions the debt off for "fair market value" among interested parties, in an orderly fashion, for maybe half a billion, if he's lucky.
Result? The federal government, during the period from purchase to sale of the "troubled asset," owns a vacuum that it purchased for nearly full price, and when all is said and done it gets back maybe a dime on the dollar. That new money is of course added to the money supply and will serve to increase the bite of inflation out of whatever paychecks will remain after the ongoing economic contraction.
The real issue is: will that initial 350 billion and the potential additional 350 billion be enough to even make a dent in what's out there in terms of asset-backed securities? Remember that nobody really knows how many of these "assets" will eventually be defaulted upon, and when.
The deeper the recession bites, the more people will be out of work and out of a paycheck, and the more of these loans will go "poof". Certainly, there will be a bottom to all of this, but the problem is that nobody knows where that bottom is.
Derivatives - the Credit Crisis' Bunker-Busters
What's worse is that whatever bottom there would otherwise be is currently in the process of being punched out by the derivatives bomb that someone forgot to secure to the underside of the B-1 passing overhead. This is particularly true with credit default swaps.
If you go to Wikipedia to read up on default swaps, the explanation makes your head spin three different ways while draining the blood from your brain, so don't spend too much time over there. CDS's are actually quite simple. It's just that people explaining them use so much jargon that it all sounds way more complicated than it needs to be.
If you invested in a bond of some municipality or corporation (let's call it Company X) and you feel shaky about its credit standing, you can enter a private contractual arrangement with me. You and I will agree that if the company goes belly-up, I will pay you whatever you lost as a result when the bond becomes worthless in the process. In return, you agree to pay me a "premium" of sorts in quarterly installments. I'm now the "protection-seller", you are the "protection-buyer", and Company X is the "reference entity" while the bond itself is the "reference obligation". If the bond-issuing company defaults, that's called a "credit event," and that triggers my duty to pony up what I promised you.
That's about the essence of a credit default swap. What gets "swapped" (i.e., exchanged) is the risk of getting hurt by the potential default by Company X on the bond you invested in. I now carry that risk, for which you compensate me by making these installment payments.
Now, instead of thinking in terms of you and me, think in terms of large corporations, whether banks, investment houses, manufacturers, insurance companies, or governmental subdivisions who are making these deals with each other.
In addition to being hatched between parties who want to hedge credit risk in this way and their counterparties who want to get the benefit of the income stream, these CDS's can also be bought and sold on the open market, which usually happens over the counter, outside of any regulated exchanges. That means somebody who doesn't even own the underlying bond can step into your shoes by buying into your contractual position as protection-buyer for a certain sum of money to you. You can now go your merry way while the new guy gets the chance to receive a windfall profit from me, the protection seller, if and when Company X goes bust. That's called speculation, as you know.
Likewise, if I think I made a bad move and want out because the Company looks shaky all of a sudden, I can offer the right to receive your (or your assignee's) promised premium payments to someone else in the market. Certain broker-dealers specialize in bringing parties for these transactions together and earning a commission on every "sale".
The problem is that neither you nor your successor have any control whatsoever over who will eventually end up in the position of protection-seller when Company X' crap hits the fan. Whoever that is may not be able to make the payout when required, and when that happens, you have essentially bought a worthless insurance policy and paid good money for it.
These CDS's are what has fueled an incredible boom of essentially un-backed and illiquid insurance contracts. By virtue of their supposedly "safe" hedging aspects, they have artificially lowered the cost of credit because any event that might have made lenders of money (people like you who loaned Company X the money you paid for purchasing the bond) more wary.
This, in turn, has made borrowing money much cheaper for everyone involved –and it has kept interest rates even ore artificially depressed than central bank policy alone could have accomplished.
These things are now being defaulted on left and right because of the demise of certain "hubs" of counterparty risk, such as Lehman Brothers, who stuck their heads a little too deeply into that barrel of rum and fell in. Lehman was left to drown, but AIG was rescued by the Fed.
Why? Because Lehman didn't sell too many bonds to our major creditors, Japan and China, while AIG did, as did Freddie-Mac and Fannie Mae. Not only that, but AIG is quite possibly the most major of all major hubs in the derivatives debacle. AIG wrote trillions of dollars worth of these little default swap critters, way beyond any possible capacity to pay up when (no longer "if") the companies they insured croak.
In essence, AIG did what any good bank is allowed to do. Just call it "fractional reserve insuring" instead of fractional reserve banking. It's actually worse. AIG basically went straight into fictional reserve insuring (just like our US banks will soon be allowed to go into fictional reserve lending as a result of Bernanke now allowing banks to reduce their reserve requirements to zero just so banks won't stop lending and cause a hyper-recession).
Now, AIG of course had triple-A credit from Moodys and the other fraudulent credit rating agencies. This allowed banks and pension funds and school districts to invest in super-risky subprime mortgage-backed "securities" and simply use an AIG-issued credit swap to "insure" against defaults and still be able to claim to their own investors that they held nothing but "AAA" paper investments.
Of course, when AIG had to borrow $85 billion from the Fed, that made a lot of buyers of these private insurance contracts very, very nervous. They now know they are no longer safe and secure, and the paper they hold as investments can no longer benefit from AIG's former triple-A rating.
That means all of the world's major banks are facing serious credit downgrades, because almost all of them hold huge amounts of swaps issued by AIG as protection-seller. According to Porter Stansbury of Stansbury Research, Goldman Sachs was the single biggest buyer of protection from AIG, and that explains why GS was able to seemingly withstand the ravages of the credit crisis for so long.
Of course, Paulson is the ex-GS chairman. Now you have another reason why AIG was ailed out. He didn't want his old company to look so bad in the markets. After all, most of his buddies (or maybe order-givers) still work there or own GS stock or debt.
Now, you also have a tie-in to what the former Fed governor I met in June told me. Hank Paulson as quite likely the guy he referred to as the man who single handedly invented the entire gambit of securitizing and moving mortgages off banks' balance sheets by selling them to SIVs or Specialized Investment Vehicles created by the banks themselves.Hankie was famous during his tenure at GS for inventing a whole slew of new financial "vehicles" of this sort.
Do you think his ascendancy to the highest financial official in the country was a stroke of good luck? Think again. He is one of the original movers and shakers behind the scenes who felt he had to step in and exert full control over the financial system via the US government.
He succeeded. Congress just handed him his greatest victory and gave his biggest fraud on the public the stamp of legislative approval!
So, are you going to re-elect your Congressman next month?
THE UPSHOT – THE CARDIAC ARREST OF WORLD FINANCE
The upshot of all this is that credit markets are seizing up all over the world. I said "seizing", not "freezing". The engine isn't cooling down too fast, it heated up too much, and now the pistons are getting stuck all over the place.
The prices on credit default swaps are blowing out sky-high because the risk of insuring the underlying debt instruments is just too great. These prices are known as "swap spreads". They are the "spread" or difference between the cost of obtaining this type of private insurance and the cost of so-called "zero-risk" US treasury debt of equal maturity.
These swap spreads are now indicating where interest rates will eventually be forced to go, regardless of what central banks and world governments are currently doing to prevent this from happening.
In truth, credit isn't even seizing up. It's just getting more expensive because the true risk of lending is beginning to get priced into lending rates. Far more expensive. In this atmosphere of declining asset values, pull-backs in consumer spending, production declines, and across the board layoffs, that additional cost of credit will kill many banks and other companies.
The Commercial Paper Rout
Not surprisingly, commercial paper is the lifeblood of modern economic activity. It is what greases the wheels, what makes all the different parts of the system work without undue friction. Money doesn't make the world go round as the old ditty claims- credit does.
Commercial paper is short-term credit of less than a year's maturity. It allows companies to bridge short-term income gaps and pay their employees, get supplied, raw materials, etc., until the next big check comes in so to speak. When commercial paper is cheap, things go well. When it isn't, things go haywire – and now it's getting more and more expensive as a result of all this.
Much of commercial paper was backed by these slime-infested, securitized mortgage bundles. Much like everything else, this paper is also traded over the counter in the secondary market, just like derivatives. That paper now sells for pennies on the dollar.in the open market, and fewer and fewer companies are willing to lend out their money to others in order to fiancé their daily operations for fear of not being able to get anything back if their counter part goes bankrupt.
Now realize that, without commercial paper, your local supermarket can't pay for the products it must store on its shelves to feed you. Your gas station can't pay for the fuel truck to come by and fill its storage tanks. As this stuff gets more and more expensive, these companies' costs are going higher and higher, and they are forced to pass these higher debt-service costs on to you, the consumer.
Yet, many consumers are losing their jobs at the same time. When these companies can't pass their higher costs on to you, they go broke. They can't make payroll, they can't pay suppliers. They lose credit ratings, and their costs of getting financing become even higher. That's where we are right now, right at the beginning of it.
And it will get worse. Much worse, and really fast, too.
The developments of the past three weeks alone have been so fast-paced that Lehman's collapse already seems like ancient history. Heck, the bailout bill itself, having only passed three days ago, is ancient history.
The World-Wide Banking Collapse is Here
As you read this, European banks are collapsing left and right and the governments of Ireland, Greece, and yes, even Germany itself are stepping in to guarantee everybody's investments. Not their bank deposits, but their investments! Do you know what that means?
It means that new money will flow like cow blood in a slaughtering pen. That simile is appropriate because all of that money will appear in the form of red ink owed by governments to their taxpayers – and to their foreign investors.
The European Union's contractual ties are coming unglued as this works itself out. While EU leaders are clamoring for a "unified response" each country is going it alone, led by Germany and the EU's economic wonder, Ireland.
This can easily lead to a breakup of the euro currency regime, and that is partially the reason why the dollar keeps going up even though the US economy and financial system are going down the tubes faster than last night's dinner after you flush.
The Europeans are doubtlessly going to follow the Swedish model rather than the US model. They will simply nationalize all of the failing banks and try to hold their assets until market conditions improve before they auction them off. The problem is that banking collapse in Sweden during the early 1990s was an isolated incident in an isolated country. Now, we are talking of all of Europe.
As the euro's prospects continue to dim, the dollar will return to the world's exclusive super-currency by default – but that will only serve to heighten the United States' economic woes as a more expensive dollars will kill off all of the export profits made during last year's dollar-collapse.
That's why Bernie is talking to the other central bankers in the world in an effort to get everyone on the same page and make all of the drop their interest rate pants at the same time.
If he succeeds, we will witness a massive, rapid, and worldwide hyperinflation that won't have any particular asset class to go into to create another artificial bubble that can pull the world's debt economy out of its current, near-terminal woes.
What the banksters are trying to do here is to ignite the next bubble in the "green/alternative energy" arena. God save all of us if they succeed.
If they succeed, we will have a global world without borders, we will have carbon taxes (that are currently being mixed in with the bailout package), and we will have a brand-new infrastructure dreamed by Al Gore in his worst nightmares.
You will not be allowed to drive what and where you want. Your living sphere will be restricted to certain pre-designated metropolitan zones, and travel between them will only be allowed along certain pre-approved corridors – like the Trans-Texas Corridor, aka the NAFTA Superhighway system.
That's why global warming is being pushed as the new mega-threat to humanity. Bird flu didn't work. Terrorism didn't work well enough, and the current economic collapse will only serve to make people starve for – and therefore willingly accept – the next bubble. Naturally, it will be financed by the same players who bought us the housing bubble and the derivatives meltdown – and you and your neighbors will invest in it, just because there seems to be nothing else out there that promises to make you money.
Before that happens, though, the economic players that will finance the next bubble will have to survive this credit and derivatives meltdown. That will be hard. Very hard.
Of course, companies can go under. Their owners are insulated from personal liability for the company's debts, and they have long since put their little flock of sheep on dry land. Plus, after the dust settles and everybody else is dirt-poor, they will still have the know-how and connections required to build the entire system back up again. I guarantee you; many of them have massive amounts of gold bars stored away. Their companies may go under, but they will survive to stick it to you and me all over again – if we survive, that is.
HOW IS GOLD DOING IN ALL OF THIS?
If you are looking at the gold price on the New York COMEX, you are disappointed and you're beginning to wonder whether investing in gold is really such a great idea.
As discussed to often before, the Comex is a farce. If you ever had any doubts about it, ten go to the website of the International Swap Dealers Association (ISDA), he central organization that tries to bring some level of sanity into the insane world of derivatives using, trading and marketing.
They have a nice list of types and classes of derivatives – and "Comex Gold" is one of them. Of course it is. Comex gold is really nothing more than a continuum of futures contracts for gold. Even the "spot price" is a futures contract of very short duration. But try finding some gold at these prices, and you will quickly find out how hard it is.
The big depressing factor for gold futures prices is the lack of Indian demand at prices above $800 to $850 per ounce. Indians apparently only value gold as jewelry anymore, no longer as a store of real value. The Vietnamese and Chinese are way ahead of them in that department, but the fact remains: Indians aren't buying what they consider to be "expensive" gold right now, and that is having an effect on the Comex price.
Another Comex-gold depressing factor is of course the rising dollar. Unfortunately, as already noted, that is also a US economy-depressing factor, so there's no telling how far this dollar recovery can and will really go. In the current insane environment, I wouldn't want to wager a guess. The parameters haven't just shifted - they have disappeared. The prospect of the euro failing and the dollar becoming the default currency of choice again while the US Titanic is rolling over on its side before going vertical destroys any possibility of near-term predictions.
The real question is this: in this environment, where else would you want to keep your wealth? In dollars? In US Treasuries when interest rates are about to shoot up, dropping prices? In "green" stocks when the entire financial structure that is supposed to finance this next boom is taking one megaton body blow after another?
Remember that tomorrow, October 6th, is derivatives meltdown day – the first of an entire series of credit default swap settlements to come. Tomorrow's will be for swaps written on Fannie-Freddie as reference entities. Then, Lehman is settled on October 10, and Washington Mutual is scheduled for October 23.
That will be fun.
Next month, it's AIG. That will be even more fun.
The required payouts for tomorrow's settlement auction are expected to be low because the government takeover of these entities is widely expected to keep their bond values high. I wouldn't want to bet on it.
So far, Comex gold is hovering in tight circles around the $830 level. We will see how that pans out. I will update you on the outcome of the swap auctions tomorrow evening. These auctions are the largest in history. AIG will have written a lot of swaps on Freddie/Fannie. If it is required to make big payouts tomorrow, the government will have to take it over completely.
Alex Wallenwein