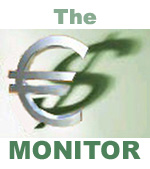 September 2008 Issue (#50)
==========================================================
In this Issue:
A. The Dollar's Survival Prospects:
(1) Trade Balance Issues
(2) Balance Sheet Issues
(3) The (Dis)Solution?
(4) Your Solution (Maybe?)
(5) Consequences for the Dollar
(6) The Timing Issue
(7) The Leadership Issue
(8) The China Issue
(9) The Asian Equation

B. Will Gold Ever Shine Again?
(1) Gold in India
(2) Gold in Vietnam
(3) Gold in Other Countries
(4) Will the 'New Asian Flu' Make Gold Sneeze?

C. China - Again:

===========================================================
A. The Dollar's Survival Prospects
The dollar's considerable bounce since July 14th has everybody talking of a 'recovery' for the greenback. At the same time, financial reporters and pundits are using the dollar's rebound as a measuring stick for gold's future prospects. Gold investors were running scared right out of their pants as they saw gold dip below the $850 mark and then below $800, and everybody is talking about the negative effects of the crumbling world economy on the recent commodities boom.
Yet, the major part of the dollar's recent rebound has two components: peaking and then sinking oil prices, and the official numbers-derived, pundit-driven perception that the US economy is coming out of the global slowdown smelling like a rose while its competitor economies (i.e., mainly the EU) are supposedly 'disintegrating'.
That picture was bolstered this past week by more synthetic numbers from the Commerce Department's Bureau of Economic Analysis when it came out with the rather interesting claim that the US economy grew at a whopping 3.3 percent during the second quarter, revised upward from the earlier 1.9 percent.
The problem is that the figure relies heavily on falsifying the CPI downward to come up with a higher number for 'real' GDP growth. Besides, much of the increase came from higher than normal government purchases in the economy – not exactly a sign of economic strength.
One of the main reasons the dollar 'rose' so high was that the other currencies fell faster during the time indicated frame. Rather than 'winning' the bout, the dollar is actually losing the general race to the bottom.
(1) Trade Balance Issues:
A recent article by several economists on international trade rebalancing may bore you to tears as you read it, but it closes with a paragraph that ought to scare the living crap out of any American who understands the ramifications. Here is the paragraph, up front:
Much larger changes than these are needed to bring the US current account into balance. How much more of a dollar decline is needed depends on how adaptable the US economy is at moving resources into the production of goods that are exported or used to replace imports and on how successfully it expands the range of products it can produce and sell abroad.
In other words, if the US doesn't start producing and exporting more stuff, the dollar's required decline to rebalance the current trade account will have to be severe. The article doesn't get into how severe. It only (correctly) observes that, "when something can't go on forever, it won't."
The recent dollar-bounce since July 14th has not changed that inconvenient little fact in any way.
Our productive capacity is now largely located abroad. Our "own" American companies are producing abroad, forcing us to import our own products. If they are forced to come back home, they will not be able to produce at current price levels because of the higher labor costs and greater regulatory burden. Even if they could, their production is largely for internal US consumption (since we are now their biggest customer), not for export to other countries, so 'bringing them home' won't do much in the way of rebalancing trade accounts
If US companies producing in the US are to expand production to take up the slack required for 'trade-rebalancing' or if new ones are to spring up, they need a market for exports. With a rising dollar, that market invariably shrinks compared to its current size (i.e., its size at current, low, dollar forex rates).
So far, US exports have increased by nearly 18 percent during the dollar's latest one-year slump since September last year. That increase has been attributed to the low dollar. Now, if the dollar were to rise any further, that competitive edge would disappear.
That is what ultimately counts when it comes to the dollar's fate in the medium to longer term, not the perception of currency traders as to whose economy is more likely to falter than the other, or whose central bank is more likely to raise interest rates than the next guy.
The Europeans, by the way, are enjoying this dollar-rise tremendously. It saves them from having to drop their interest rates. They like the euro to sink compared to the dollar because it boosts their export competitiveness and helps their economy – just like the dollar's fall has helped us export more.
Essentially, the ECB got its July hike in under the door to save face about its inflation-fighting mandate. Now its slumping growth will do the rest of the job. The US, on the other hand, has to pretend that the dollar is still worth something so the Japanese and Chinese won't stop buying US treasuries. Indeed, foreign treasury buying from these sources has stepped up considerably of late.
At the same time, the Bank of China (that's the BOC, a state-private enterprise Hank Paulson helped go public in 2006, not the PBOC which is China's central bank) dumped a quarter of its GSE agency debt (Freddie and Fannie, et al) since June. The implied threat is that the PBOC may do the same, soon. This virtually forces the US government to take these misbegotten twins over.
The dumping of GSE bonds tends to raise borrowing costs for these agencies to unsustainable levels, which means they will not be able to exist without government support. That, in turn, helps to make sure that other foreign holders of GSE debt will not be out of their investment money when the twins fold. US taxpayers, bailing out foreign holders of GSE debt so these foreign holders will continue to agree to bail out the dollar. That's pretty much the long and short of the dollar's recent recovery story. Not all that glamorous anymore, is it?
(2) Balance Sheet Issues:
The balance sheets of US banks, thrifts, and investment houses are about to go even more lopsided than they already are. The reason: mortgage holders are discovering that they can beat the system and stay in their homes despite attempts to foreclose on them.
In fact, the day may even come when they realize that they can stop paying their mortgages with impunity, even before lenders begin foreclosure proceedings. And, what's the reason for that?
Sloth, and greed – brought about by easy money.
Some gutsy (or desperate?) homeowners and their lawyers have taken on the lending establishment by demanding, God forbid, proof that the entity trying to take their homes away from them actually own the loans they are trying to collect on. Who ever heard of such a thing?
Common industry practice for years has been for lenders or their assignees to present to the courts what are called 'lost note affidavits' in which they state they cannot produce the original promissory note they are trying to foreclose on.
When the practice wasn't as widespread, nobody challenged it, but now that people do, courts are growing wary of them. A mere request for 'discovery' by a mortgagor in judicial foreclosure proceedings can turn things upside down for the assignees of the mortgages. The burden to prove they really own the loan is on them. If they can't sustain their burden, courts rule against them. Case closed. No foreclosure.
The reasons why these pesky little original loan documents get lost are many, chief among them pure laziness.
When the real estate/mortgage boom got into full swing, people were working fast and furiously o just get new loans processed. It has always been commonplace for mortgage lenders to sell their loans to other companies, banks, or loan servicing outfits, so it was never unusual for loans to be sold to other entities many times over. Then came that mysterious nameless person I reported on in the July Monitor with his bright idea of moving these loans off the banks' balance sheets by creating these SIV's or specialized investment vehicles.
The bundling of the loans alone was a huge effort, administratively speaking, and they often were unbundled and re-bundled many times over before they ended up in the current investor's hands, often in the form of a mere Excel spreadsheet that shows the name of the borrower, the amount of the loan, the interest rate, and maybe the date of origination.
I'm sure they had the purest of intentions to forward the actual loan documentation later, but you know what happens when people get rushed, stressed out, overwhelmed, and if a few disorganized workers get into the assembly line who don't really care enough to make sure it all gets done properly.
Things get lost.
As a result, probably more than half, possibly way more than half of all mortgages currently outstanding are held by entities that don't have the original loan papers. Yet, they want to foreclose ASAP as soon as the borrowers stop paying. Well, the courts are getting wise to this. Courts of Appeals of twelve states, so far, have opinions out decrying that practice and demanding that lenders and service companies who want to foreclose prove they really own the right to foreclose.
Interesting, no?Now, remember that these loans are considered assets in the banking system. If there is one thing the banking and financial system likes and knows best how to do, it's leveraging. Pyramiding, in other words. One bundle of loans is used as collateral for more loans, and the proceeds are invested in other financial instruments like interest rate derivatives that get so esoteric and so complicated that often even the lawyers who write these documents can't figure out how they work anymore.
It's kind of like a controlled demolition of a building. Once you blow out the foundation, there is only one way for the building to go, and that is down. Well, these inconvenient little administrative bungles, in their totality, are having the same effect on the US financial structure – primarily, at least.
These 'orphan loans' as they are called once provided the very foundation of much of today's hedge fund industry's once fabulous returns. You know that when an outfit run by the Carlyle group goes bust, serious things are in the works underneath the surface, things you and I never hear about in the news.
In that connection, I want to recommend to you a video on Youtube. It shows a whole slew of videos of some by now quite famous controlled demo events, and it keeps driving the message home: "Once the foundation is gone, it's al coming down." It's rather irrefutable, I would think, and not only on the fate of "pulled" buildings.
These cumulative problems, these loan disintegrations, or evaporations, or whatever else you want to call them have not even begun to work their way through the conscious minds of those who live and breathe in the loan-creation and loan pyramiding universe we call the world financial system. When they do, there will be hell to pay.
Reportedly, in excess of $2 trillion worth of mortgages outstanding, or 19 percent of them, were bundled into securities. The official delinquency rate for all mortgages nationwide was already at 1.69 percent in February, more than it has ever been since they began to be tracked back in 1993 – fifteen years ago.
(3) The (Dis)Solution?
You know that sooner or later the government will step into this mess to make it worse. What are their options?
They can pass a law that says an affidavit of lost note is good enough for proof in courts and cannot be challenged, thereby turning centuries of common law jurisprudence on their heads. It will be tantamount to passing a law that declares that financial firms are above the law, and that the homeowner has no recourse. Nothing new, here. It will be 1933, all over again.
To put it at baseline level, it would be like you being able to collect money from your neighbor just by claiming that you loaned him money and filling out a paper that says so. You can just imagine to what kind of abuse such a law will lead. It would almost be akin to legislatively elevating lost note affidavits to legal tender status. A piece of paper, without more, that can be bought and sold in the open market, with the only difference being that it won't allow you to buy anything with it, but it will allow some no-name company down the road to foreclose on your house - just because not allowing them to do so would throw the entire financial system on its side.
(4) Your Solution – Maybe?
Until the government passes such a law, if you ever run into such financial problems that your lender/service company threatens foreclosure, and if you live in a non-judicial foreclosure state (where filing a court case is not necessary to start the proceedings), you can stop them, toute d'suite, by filing for a temporary restraining order and eventually permanent injunction against them. Ask the court to order them to produce original loan documents, especially a valid, original assignment and the original promissory note, which every lender attempting foreclosure should have in their possession.
If you live in a judicial foreclosure state, simply insist on 'discovery', which allows you to force them to present whatever proof of ownership they have. With a probability of better than 50 percent that they will not be able to present the documents, it is not only a shot worth taking, it is an absolute must.
(5) Consequences for the Dollar
It should be plain to see that, with the stilts knocked out from right underneath it, the dollar doesn't have too many directional options to take advantage of. The only question is at which angle it will hit the ground, not whether it will hit it.
These fundamental, structural problems are not going to go away with a falling oil price alone. Besides, oil will only fall so far. Maybe down to $80/bbl., and then consolidate around the $100 level. Unless and until the banking/government/oil company conglomerate finds vast new oil pools to drill into – or releases its clampdown on information concerning the true capacity of the Prudhoe Bay reservoirs already discovered and capped in the 1970's, there is little chance of anything lower than that, in the long term.
Yet, I am not an oil expert. I have been wrong on oil on the way up (expecting it to stay only briefly above $100 and then dropping back due to demand destruction), In any case, wherever oil does finally settle, and settle it will, once it finds its bottom, the dollar's woes are going to come to the surface of public consciousness again, and when they do, traders will go back on the short side en masse.
(6) The Timing Issue:
The big question, however, is how long it will take for all of this to play itself out, and that one is an impossibility to predict. The variables going into the calculations are just too many and, well, to variable.
There is the irreality factor, for example. The information disseminated from US sources is so bastardized that there is no telling what kind of a delaying effect it may supply to the time frame required for the truth to not only come out, but to begin to penetrate people's minds and actually influence people's judgment. Currently, everyone is still on the "US GDP in Q2 was 3.3 percent - yippieh!!" wavelength.
A short while back, when it was first revealed that Freddie had lost a cool $812 mil for Q2, up from only $115 mil in Q1, the dollar went up, stocks went up, and things just couldn't seem to be any better in financial news lala land.
Please do an experiment with me. Just go to Google News and set up a email news alert for the key phrase "credit crunch". You will see in almost every email you receive that there is only 10 percent coverage of the issue by the US press. Almost a full 90 percent is from UK alone, with a smattering of India and international reports sprinkled in. Yet, you and I know very well that there is plenty of credit crunching going on in this country.
It's just that your kind and benevolent news editors don't want you to trouble your fragile mind with it. It might make you sad, and that wouldn't be good, would it? Accounting for this irreality factor alone will make every pin-point prediction as to timing an impossibility.
Yet, I believe that during the next month or two, things will change dramatically. Currently, the world is left with the impression that, "yes, things are bad here in the US of A, but just look at Europe. My, they've got problems over there!" All it takes is for Lehman Brothers to finally succumb to reality, and whammo!
Because of all of the above, getting sucked into a "go long the US dollar and other US financial instruments" frame of mind would be tantamount to financial suicide.
(7) The Leadership Issue
The final nail in the dollar's coffin is a double-headed nail. One of its heads is a five-letter word, and it spells O-b-a-m-a, and the other is a six-letter word and spells M-C—C-a-i-n. Both heads are being pounded with equal force into the flesh of what's left of America by an unrelenting, 100 percent corporate-controlled media barrage. The contest is being represented by media land as a "close one", presumably to make Americans believe that it is a real one. Neither is the case.
Regardless who 'wins', however, the results will be identical. Whatever problems the country faces domestically or internationally, more money and more weapons will be thrown into the mix by either candidate. The end result will be as predictable as the problem that led up to it. The US deficit will swell to even more unbelievable proportions (maybe by then, those multi-tens of trillions of dollars will sound 'normal' to most Americans) and international support for the dollar will vanish.
Just like last time around, from 2005 to 2006, every period of perceived 'strength' of the dollar will only result in the euro quietly making additional headway internationally without threatening the existence of the European contractual arrangement called the "union" all too much. For the dollar, it's like being the giant in the swamp hole. Every movement, every outward exertion of 'strength' only sucks him faster toward his eventual doom.
(8) The China Issue
A good portion of the recent 'support' for the dollar comes in the form of China making sure its own economic woes resulting from the US slowdown will not get completely out of hand.
Already, China is waging a simultaneous battle against increasing wage demands by its worker force during times of slowing export demand from its chief export market, the US. Europe, of course, China's second largest export market, isn't doing any better as it turns out, which serves to hurt China further. .
To slow the price and wage inflation, the Chinese government has raised the reserve requirements for its banks in rapid-fire fashion over the past few months – but guess in what currency? Chinese banks are required to hold their increased reserve requirements in US dollars. Might that have had any impact on the suddenly burgeoning dollar? You bet? Is this in China's interest? You bet.
(9) The Asian Equation
The world currencies' race to the bottom is getting help from gravity herself. Some of the winners are now in free fall.
Some of the older (not by age but by length of subscription time) Monitor Members have already seen this joke, but it's just too cute to not use it again - especially in light of what's happening to the Asian currencies right now. It goes like this:
A novice Japanese currency trader asks his American counterpart: "Hey, what's going on here? One day, the yen is up, the next day it's down - why is this happening?" The US trader curtly replies, "Fluctuations" - and his Japanese friend explodes, screaming, "Well, fluc all you white people, too!!"
There are a lot of 'fluctuations' going on in the Asian currency markets, right now, and most of them to the downside - against the dollar. Since finding out about this new trend and the near-catastrophic nature of it, especially where the Korean won is concerned, I'm having to revise the near-term prognostications of everything I have written in the earlier section on the dollar's likely near to medium term performance.
The analysis in that section remains valid in the long run, but now in the short to medium term, these developments are very likely to take over and dominate the world's financial news - and the US dollar's fortunes - for the next three to six months, at least. Here is why:
Remember the "Asian Currency Contagion" from 1997? It's happening all over again. South Korea and Thailand in particular are experiencing tremendous currency cave-ins, and Thailand even has street riots going on as a result, just like Indonesia did back in the day.
The dollar's recent super-rapid rise will convince many Asians that it represents a good alternative to and a 'safe haven' from the currency carnage that is happening in their own countries. South Korea, Thailand, Taiwan, the Philippines are all suffering from rapid currency depreciation that many fear will lead to a total collapse. The "flight to safety" in the form of government debt of the world's largest economy will seem like an irresistible proposition to many of them.
Their collapsing currencies are causing their own energy costs to skyrocket, since most of the world's oil is still paid for in US dollars, which are getting more expensive for them to acquire as their currencies fall against the buck.
Parallels to the "Asian Contagion" of the late 1990s will necessarily be made. The US situation in all of this today is vastly different as far as the solvency of its financial structure and the strength of its economy is concerned, but the recent 3.3 percent GDP growth lie is sure to mislead many.
The hope is generally that the lower oil/dollar price will help to re-ignite the US economy and pull it out of its recent slump so that Americans can continue to buy Asian exports, which will then support their economies and their currencies as well. With what's in the wings for the US financial system, that won't happen for very long, but until that realization sinks in, all bets are off.
At the same time, as the dollar rises against all other currencies, US exports become less affordable, so that will dampen any benefits of the sinking price of oil. Thus, if the US economy is to seriously rebound alongside a rebounding dollar, only domestic demand can pull it out of the swamp hole. The big issue is therefore whether sinking oil alone can rekindle domestic demand to the point where US consumption can again drive the entire world economy as it did in the earlier part of this decade. Nothing short of that will re-ignite the economic boom in Asia.
In order for all of that to happen, two things are required: easy access for Americans to spendable cash accompanied by sufficient liquidity in the US financial system - and that's precisely the point where any hopes of a strong – and lasting - US recovery will be breaking down.
The financial system is in worse tatters than even its head honchos realize, right now, and it doesn't even matter if the central government passes another unconstitutional law allowing loan-servicers and mortgage investors to foreclose on delinquent properties without having to document their right to do so. Home-borrowers (I don't call them 'owners' anymore) will either be able to fight back and avoid losing their homes or they will be foreclosed upon. In either case, the mortgages underpinning all of these esoteric financial products will simply evaporate.
It's the age-old warning from Austrians: debt either has to be repaid or repudiated. There is no way it can ever be repaid, so we have now finally entered the Great Repudiation. It will make the formerly great depression of the thirties look like child's play – but until enough market participants realize this, watch the dollar climb, the GDP lie proliferate, and the US become Asia's financial 'safe haven' once more.
B. Will Gold Ever Shine Again?
Just in case you haven't noticed, gold never stops shining. That's one of its basic qualities as a precious metal. It won't even tarnish The only way the money powers can keep anyone from realizing that fact is by keeping people's eyes focused elsewhere – so they won't notice.
The reason I have kept gold out of our discussion of the dollar above is that we will likely re-enter a period in which gold and the dollar rise together, just like they did during most of 2005. That means, the dollar's 'fortunes' if you will are not necessarily going to determine the price of gold to the same extent they have in the last few months, actually the past full year. This, however, should be prefaced with the caveat of "if the dollar doesn't resume its crash before then" – for that could happen at any time.
(1) Gold in India:
The current price slump in gold has in fact reawakened the Indian's old love and appreciation for their once favorite yellow metal. This excerpt from a recent article in the Times of India newspaper should dispel any doubts you may have had in that respect: "From retail sales of 300-400 kgs of gold bar per day at the start of 2008, demand has surged to 3,000 to 4,000 kgs per day"
At the start of 2008, India was still in the middle of its traditional gold buying season, mind you, and we have just now entered this year's season.
Naturally, if prices go back up above US$1,000 per ounce, that demand is likely to drop off again somewhat, but this time the Indians will go through their auspicious days for buying gold with the painful (and recent) knowledge that stock market's aren't quite what their own financial authorities have tried to crack them up to be of late.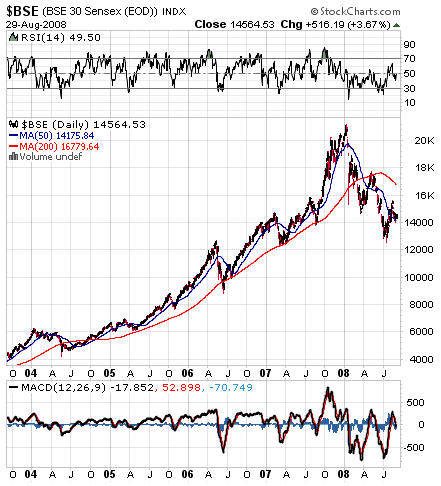 Back in May of 2006, the BSE had a steep drop alongside gold's big dip, but then it worked its way back up pretty quickly while gold stayed in a sideways consolidation pattern for almost a year and a half. That, alongside the fact that the gold price was climbing into levels that made gold unaffordable for many of the less well heeled of Indians did its share to convince them that gold was finally becoming an investment dinosaur and that, maybe, they should listen to their bankers and join the modern age of slick and sexy paper instruments.
Well, January of 2008 and everything that came after it has done its share to make Indian's reconsider, it seems. Chances are quite good that the BSE may be working on its right shoulder to a huge H&S pattern that may be developing. However that may be, without the lure of easy money in their stock markets, Indians will be very well disposed toward giving gold another chance this year, even if it does become relatively expensive again. After all, the whole idea about gold is that, after you have bought it, you want it to become more expensive, right?
(2) Gold in Vietnam:
So far, in the first half of 2008, retail investment demand in the tiny country Vietnam by itself has consumed almost one third of the world's total, or 56.6 tonnes out of a total of 177 tonnes. That puts Vietnamese retail investment demand in second place world wide behind India's with 74 tonnes.
This went to the point that the Vietnamese representative of the World Gold Council (great friend of gold that the WGC is) has begun to recommend to Vietnamese that they should not be buying any gold at this time – because they were driving gold prices too high in Vietnam! Let's see how gullible Vietnamese gold buyers are. My guess is that they will fare far better than their US and European counterparts on that point.
In June, the Vietnamese government even saw itself forced to temporarily halt gold imports, which undoubtedly led to the recently rumored of traffic jams on the way to gold dealer outlets in Saigon.
All of this is in spite of the fact that considerable amounts of fraud are happening in Vietnam's gold dealer stores. There is no governmental standard for the purity of gold products, so dealers often sell 50% gold products for 75% gold, which is the world's standard for 24 karat gold, the most popular type in that country. Yet, the frenzy continues, undeterred.
Let's put Vietnamese gold buying in perspective for a moment: Vietnam's population is 86 million strong; India's is 1.15 billion; China's is 1.33 billion, and the US has 304 million. So, the US is more than three times as populous as Vietnam, and both China and India are three times as populous as the US, yet Vietnam currently buys more gold than any of these top gold-buying countries, with the exception of India.
(3) Gold in Other Countries:
Most other countries, including India, have scaled back their gold buying compared to Q2 of 2007. The only notable gainers were Vietnam (55%), China (12%), Egypt (12%), and Russia (9%). India, with a drop of 47 percent, has almost cut its imports in half over the period, but the figures quoted at the beginning of this section together with the Indian stock market performance suggest that this may well swing all the way back this season. A ten-times increase of Indian gold buying compared to January speaks for itself. Demand in Vietnam has seen no letting up.
(4) Will the New 'Asian Flu' Make Gold Sneeze?
We have earlier taken a look at how the Asian currency flu's renewed flare-up may turn out similar to what happened in the nineties. Now, let's take a big step back for a moment and look at what makes today different:
We've already noted that the US is nowhere near in as good a shape as it was back then. That's one major factor.
The other is that in the late nineties, gold was in a prolonged downswing that had not yet played itself out. Nobody paid any attention to gold, even in gold-friendly Asia. Now, we continue in a secular bull market that has raised everyone's price expectations for gold and therefore its appeal as a true safe haven.
As the current correction in gold has shown, these sharply reduced prices during a secular upswing have led to tremendous physical investment demand, and even jewelry demand is perking up again.
China has entered the gold market in a big way and has become the world's number two producer and number two consumer/importer of gold at the same time.
Vietnam has entered the stage as a picture-perfect example of what happens – and should happen – during serious fiat-inflation. Vietnam's official inflation rate of 25 percent has propelled this tiny speck on the map into the position of the world's second largest importer of gold for retail investment purposes. It may well serve as a model for the other Asian rim countries that are watching their currencies collapse.
All of this is sure to at least counter-balance the knee-jerk reaction to relapse back to 1997 and just buy US dollars and treasuries. Which way it will ultimately turn out in the short run is almost impossible to predict. 'The system's ability to delay, confuse, and obfuscate in the short run should never be underestimated, but there are cracks even in that temporary, short-run armor, as we have seen.
All said and done, I do expect gold to resume its uptrend by October at the latest. Here is another reason why:
C. China – Again
China had to finance its economic miracle with massive monetary expansion. Whatever China earned from its trade with the US and Europe required it to print yuan to quite literally buy the dollar-earnings of its state run and private companies that were exchanging their trade-earned dollars for yuan to buy whatever they needed in the Chinese economy.
That, naturally, has led to massive credit-inflation, which has only recently begun to show itself in prices and wage demands. Now, the Chinese polit bureau is stepping hard on its monetary brakes, raising interest rates and letting the yuan appreciate against the basket of currencies it substituted for the dollar back in 2005. That's on the one hand. On the other, they raise reserve requirements of their commercial banks – in dollars. That means they are 'printing' less yuan to buy dollars. Instead, they are holding the dollars themselves.
With less yuan printed, their ability to buy additional dollars earned in trade decreases. That means yuan will become scarce, which raises their value, and that counters the effect of their stealth policy of requiring their banks to hold more dollar reserves. In short, it tends to make their yuan appreciate against the dollar – which is the opposite of what they want.
If lowering the yuan compared to the dollar is their goal, then they must risk tremendous increases in dollar-holdings of their commercial banks to counterbalance this tendency. How much of this can they stomach?
The other question is, of course, "how high can the dollar go without nullifying the US export boom that grew out of the recent year-long period of the dollar remaining below its previous all-time low of 80 points on the USD Index?
In the end, the more successful the Chinese are in pushing the dollar up, the more they hurt the US economy. Since the entire world looks like it is crumbling faster than the US right now, if that perception persists, the US will not be able to stand alone with a strong currency. It's oil bill will drop as a result, but its exports will suffer. With consumers tapped out and their home equities going negative, where will the additional money needed to fuel another economic upswing come from? It will have to be created the by now 'old fashioned' way: it will have to be 'printed.' But, the printing presses don't work when banks are unwilling to lend to consumers and each other and when they are actually in the process of foreclosing on loans.
Though spot, eh?
Nobody can afford a strong currency anymore – least of all the US. So, where will the world of finance have to go? There are only two options: total tyranny with worldwide central planning and a purely fictitious, non-cash currency – or a system based on gold and silver.
It will be most interesting to see which way things will go.
We, who have a stake in the outcome since we know we want freedom and a real economy, will have to do some work beyond simply 'wise investing' if we want to enjoy the fruits of our investments.
There are many things we can do, however 'hopeless' they may seem. The encouraging part is that, when it comes to hopelessness, the alternatives offered by the current system surely take the cake – which means gold and silver have a much better chance than ever.
It's up to us to make it happen.
See you next time.