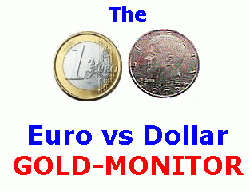 July 2008 Issue (#48)
IN THIS ISSUE:
SECTION ONE: THE CURRENCY OUTLOOK
1. Overview
2. A Better Euro-Hedging Strategy
3. Gold As a Currency Hedge
4. Hedging While Gold Rises
5. Hedging While Gold Drops
6. Silver Hedging?

SECTION TWO: THE US BANKING SECTOR
1. The Federal Reserve's Plans for Your Future
2. The Upside Down World of Fiat-Banking

SECTION THREE: NON PRECIOUS METAL INVESTMENTS
1. Brazil's Stock Market
2. Petrobras

SECTION FOUR: PRECIOUS METALS UPDATE & FORECASTS
1. Gold & Silver
2. Gold Shares
3. Bonds & Rates
3. US Stock Markets
4. Oil

SUMMARY
================================================================
Here we go:
SECTION I: THE CURRENCY OUTLOOK
1. Overview:
The financial press' take on the euro has improved quite a bit from where it was in May. The realization that the ECB's Trichet wasn't bluffing when he said he would raise rates has finally sunk into even the thickest financial commentator skulls. It is difficult to gauge when this will result into full recognition that the ECB does indeed take its singular mandate of price stability very, very seriously. It is not about to give in to mere jawboning from the political or business establishment, unless its own analysis confirms that a loosening of monetary policy is in order.
It would behoove the financial press well to actually listen when Tricky Trichet says things like this:
Challenging as the present global economy may be, the rules for monetary policy-making are not altered. Also in our globalised world, inflation is a monetary phenomenon in the long term and price stability is the essential responsibility of the monetary authorities. The task is complicated by interaction with the other factors – for example, by the impact of global resource constraints or the growing concerns about climate change – but monetary policy stays firmly focused on delivering price stability, which is important for the efficient working of the market system and the optimal allocation of resources. By maintaining price stability over the medium term, which means pinning down trend inflation and ensuring that inflation expectations are firmly anchored, central banks contribute to the smooth functioning of the economy, to sustainable growth and to job creation. The ECB with its mandate for price stability is firmly focused on this policy goal.
Trichet is not simply uttering sycophantic drivel to make it seem like he is doing his job when he is not. He is dead serious about it.
Also notable here is the open acknowledgement - from a top central banker, no less – that inflation is a monetary phenomenon. You can look far and wide among US central bankers and financial press commentators before you will find such open acknowledgment of this fundamental truth. It has profound policy implications.
Yet, even Trichet talks about the need for monetary policy to anchor inflation expectations. This refers to the need to manage people's beliefs about what the future will bring. He also talks about watching the knock-on effects of "second run" price inflation coming from the so-called "wage-price" spiral, i.e., workers demanding higher wages, forcing companies to raise their prices to compensate.
Not likely to happen. Why?
Because the economies of the euro zone aren't really that strong. The EU has an unemployment rate of 6.7 percent, down from the double digits as recently as 1995, but still fairly high by US standards (currently 5.5%, considered 'exceptionally high"). At the same time, EU consumer confidence fell in June, as did business confidence and purchasing manager confidence in Germany.
So, what's the deal?
"Tricky" wants to hike further, and he is letting us know – except that the brain-dead financial press isn't getting it, just like they didn't get it when he first threatened to hike back in December – and ever since. Tricky always makes good on his word. That's why he is so "tricky" to conventional observers. They're not used to that. They expect double-talk, like whatever wafts over the Atlantic from this side of the pond.
The same kind of attitude emanates from the BIS. Malcolm Knight, BIS Chief, warned that while the US dollar's depreciation against other major currencies has so far been "remarkably orderly," that might not continue to be the case. "Foreign investors in US dollar assets have seen big losses," a recent BIS report said. "While unlikely...a sudden rush for the exits cannot be ruled out completely."
Remember that the BIS (Bank for International Settlements) is the place where central bankers get together to hash out global monetary policy moves. The dollar is to be sidelined. That's what they want, that's what will happen.
2. A Better Hedging Strategy for US Importers of Euro-Priced Goods:
If you are a US importer of goods that are to be paid for in euros and you have the inclination to do so, read the following article on a suggested hedging strategy for euro-zone importers of goods from the US. Unless you are a professional currency trader or employ one, your eyes will probably glaze over as you read it.
That is not what you want. You need to hire a high-priced, full time currency hedging consultant to make head or tails out of mumbo-jumbo like that. Here is an alternative strategy for regular businessmen with less money to sink into questionable hedging strategies:
3. Gold As A Currency Hedge:
Gold is rising against both the dollar and the euro, as the following two charts show.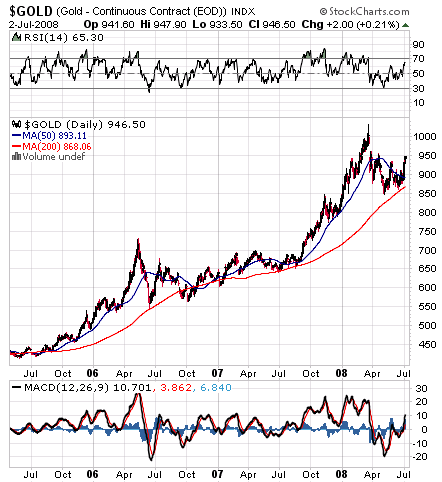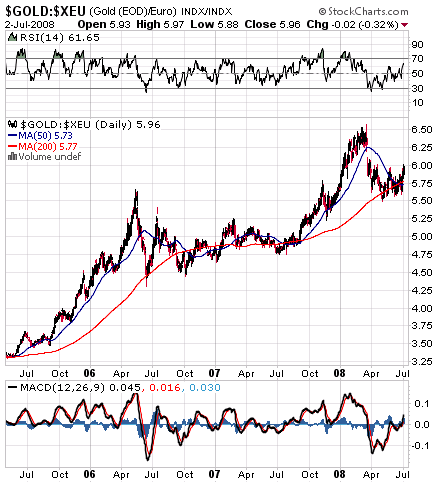 4. Hedging While Gold Rises:
If you want to hedge your exposure to already existing contractual commitments to purchase euro zone goods in increasingly expensive euros, allocate whatever amount of dollars you would have to expend on your scheduled purchase at the current exchange rate and buy gold with it. Don't buy gold futures contracts, though. They may be convenient, but you will be subject to potential margin increases in the meantime.Instead, buy holdings in that amount with GoldMoney. It can be done online, does not require transportation expenses and taking physical delivery and re-delivery at the time of sale, and exchanges from gold to dollars or euros can be in your bank account within 24 hours.
This, of course, is only feasible during times when it is reasonably clear that gold will rise in the interim. This year's big annual drop in gold prices has occurred already. Gold hit support at $850 and has consolidated, and it has already broken out of its consolidation pattern even though the summer months normally are slow. It is set to book considerable increased this year against both the dollar and the euro, so any euro cost increases relative to the dollar will not only be balanced out, but will be exceeded by increases in the price of gold.
Let's say you have a one-year contract for European widgets. You are required to take delivery of X amount of widgets in July of 2009. During that time, your dollars are expected to decline against the euro.
You can buy euros now and basically stand at zero gains and zero losses – but you will be out of the balance during that time and will not be able to use the amount for operating costs, payrolls, etc., in the meantime.
If you were to buy gold now, you would be out of the money in the meantime just the same, but you would book a nice gain at the time you sell your gold and apply whatever portion of the proceeds it takes to buy the requisite amount of euros.
The drawback is that you need to be able to gauge when the next interim top comes around, like the one from march 17th this year. However, even if you took the full loss associated with that drop, you would still be ahead in both dollar and euro terms if the past years were any indication of what the next year will bring.
Naturally, as time progresses (as it tends to do) you will come to a point at which gold nears another interim top, and you will be faced with closing deals that require you to purchase goods payable in euros several months down the road. What do you do then?
5. Hedging While Gold Drops:
The instinctive solution here would be to simply short gold on its way down – but that could be a grave mistake. During times of financial collapse or near-collapse, betting against gold is extremely risky and can result in a devastating blow to your bottom line. During these times, you must be prepared to "expect the unexpected" as they say, and anything unexpected can result in a significant break with the traditional gold-pricing cycles we have witnessed since this secular bull market began back in 2001.
Actually, the answer is much simpler. When gold drops, the dollar usually rises against or stays even with the euro – and that means you need to do nothing at all. Okay, so you won't make the profits you can lock in while gold rises, but hey. You set out trying to minimize losses - and now have a strategy that produces profits most of the time and breaks even some of the time. Isn't that better?
You could also hedge with oil, but oil will correct rather sharply, sooner or later, when demand-destruction takes its toll and the same "strategists" who are now driving the price higher will turn into short-sellers to keep their profit streams going.
6. Silver Hedging?
Is silver a good hedge? Silver is far more volatile than gold. It generally follows gold over time but it has "unpredictabilities" built into it that can seriously skew any hedging strategy. However, I would always recommend a consistent buying program to take advantage of the cost-averaging method and to gain increasing exposure over time without strapping your cash reserves too far.
Silver has the potential of a huge breakout that will make gold look like an unwanted stepchild at some point in time – but it probably won't last. Getting exposure is great, but betting on the time of the breakout is a bad idea. Silver guru Ted Butler has been writing about this possible silver explosion for nearly twenty years, now, and while silver overall did out perform gold, the spike has yet to occur.
The best strategy is what Ted recommends anyway: Buy silver. Buy it consistently. Buy physical only and take delivery. Keep it nearby, not in a safe deposit box or vault at the bank, nor in a known precious metals storage facility in your hometown. Just don't over-extend yourself with options and futures contracts, trying to time the breakout. Why? When buying and holding physical, you can't lose. When betting on contracts, you can. It's that simple.
SECTION TWO: THE BANKING SECTOR
1. The Federal Reserve's Plans for Your Future:
The US Fed is desperate to get the banking system not only the liquidity it needs, but the all-important "cash" reserves necessary to satisfy official requirements.
There is a limit to how low the Fed as the top-dog bank regulator can set the reserve requirements – and that limit is by necessity somewhere above zero. Currently, the entire US banking system is in a net-borrowed position to the tune of some $50 BILLION dollars! These borrowed funds are mainly the result of the extremely short-term TAF (Term Auction Facility) and TSLF (Term Securities Lending Facility) funds provided by the Fed.
I had an opportunity to speak directly to a former two-time Fed governor. He informed me that the newest "thing" the Fed is trying to push through Congress right now is the abrogation of a law that requires large shareholders of commercial banks who own more than 25%of a bank's total outstanding stock to submit to the same federal regulatory scheme as the bank whose stock they own.
In other words, if you have enough money (and stupidity) to sink into a US commercial bank, but you are not a bank itself, the Fed and US law will treat you the same way as a bank, and you have to fulfill the same regulatory requirements as a bank.
This firewall, if you will, is now being removed so that private equity funds and other large investors can plomp large chunks of money down on the table in the form of share ownership in order to keep cash reserve-strapped banks out of commercial banking purgatory.
The problem with these newfangled US Fed lending and auction facilities referred to above is that they include the word "term". This means "term" as in "short-term". 28 days, on average, with a maximum extension of only one single rollover for another 28 days. At the end of that, it's repayment time, and that means the bank that borrowed the funds will be out of cash reserves – and that's the same thing for a bank as running out of air to breathe for mammals. It usually means death within a very short time.
This cash is now supposed to be provided by these private equity funds.
Now, please picture this in your mind, for a moment. Banks are where the retail and commercial public are supposed to go in order to borrow money. Banks have a "legal" (lets call this legislative instead, since the word "legal" usually implies legitimacy, which I happen to dispute) permission to counterfeit money by loaning it into existence.
The only drawback on that stick –it-to-the-public banker paradise is that banks, in order to be allowed to counterfeit "money" in this way, must have sufficient "cash reserves" on hand. These cash reserves can be borrowed, as we have seen, at least as long as a bank is willing (and able) to pay the servicing cost of that borrowed money (i.e., in most cases, the federal funds rate for overnight borrowing).
But, what happens if the bank can no longer service its borrowing costs?
What happens if borrowing costs rise before the bank can repay what it owes?
What happens if at the same time, the bank's income-potential drastically decreases as a result of higher lending standards and simultaneously shrinking loan demand from the public?
What happens when this higher debt load gets paired up with reduced ability to create new money, and therefore income for the banks?
Answer: Banks will fail.
"Insolvency" is not defined as running out of assets, but as the inability to make payments as they become due.
2. The Upside-Down World of Banking
Making loans is a bank's bread and butter. In the upside-down world of fractional reserve fiat-banking, loans made (i.e., what we normal humans think of as "money temporarily given to others") are considered "assets" while deposits received from depositors are "liabilities".
A loan is an asset because it counts as a receivable. The borrower must pay it back with interest. That's a plus. A deposit received from a bank customer, on the other hand is a liability because the bank must allow the depositor to make withdrawals up to that amount. When you deposit money in your bank account, you are legally making a loan to your bank for that amount, whether you are consciously aware of that or not.
Deposits are counted toward cash reserves. They allow the banking system as a whole to leverage its money-creation process, but the individual bank that receives a deposit can only lend out a fraction of the deposit amount, usually nine-tenths.
That's why bank runs are so lethal to banks. A bank that suffers a run can suddenly no longer count on its deposits as a basis for making loans, and no loans means no assets, no income, and no debt-servicing ability.
That is the very reason why the Federal Reserve is supposed to exist.
It is supposed to be the "lender of last resort". When customers stage a run on a large number of banks, the entire banking system can fail because without deposits, banks can't (quite literally) "make money". Without creating new money in this way, they cannot pay their loan servicing costs and so will have to go into receivership and/or bankruptcy.
The Fed is supposed to be the backstop to this process. If customers "run", the bank goes to the Fed and borrows the money it needs as cash reserves to pyramid future loans on.
A similar thing happens when bank borrowers can't or won't) pay their loans back to the banks. Suddenly, the bank's asset base shrinks as loans go from "performing" to "non-performing" status. Non-performing loans are simply written off, i.e., deducted from the asset column of the bank's ledger or balance sheet. It's pure magic. They make the balances appear, and then make them disappear.
The problem is that when they disappear, the banks' income stream dwindles as the bank no longer receives the monthly payments due under the loan. The reduced income negatively impacts the banks ability to maintain federal funds, i.e., deposits at its regional federal reserve bank that, along with the physical currency it holds in its vaults, go toward satisfying the reserve requirements.
When there are "excess reserves" in the system, there is plenty of money that banks can loan each other in order to meet these reserve requirements, but when these excess reserves disappear through one of the two processes outlined above, banks ordinarily need to go to the Fed's "discount window" to borrow money at the "discount rate", which is usually higher than the federal funds rate.
Now, as a result of the subprime-induced mortgage crisis, banks are afraid to loan these federal funds to each other because they fear the borrowing bank may go under, thus depriving the lending bank of the return of the principal and the payment of interest. In order to keep banks from having to pay the higher cost of borrowing reserves at the discount window (which reduces their profitability in an already dangerous market), the Fed has introduced these "TAF" auctions.
Now, here is the kicker: at first, after the subprime crisis hit in August last year, banks wouldn't lend to each other out of fear of losing the money. Now, as the St. Louis Fed chart below shows, banks can't lend to each other anymore because the processes outlined above have reduced their reserves to below zero. That is why the US banking system as a whole is now on "net-borrowed" status to the tune of $50 billion!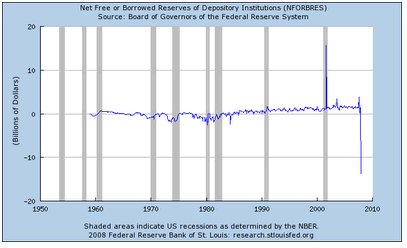 (Click on the chart to see the updated version)
The press, of course, has conveniently omitted to point that little factor out to us. All we hear is that banks "still don't lend to each other. We are not told why.
Now how is our little bank (let's call it "Average National Bank, N.A." for our purposes here) going to get out of that hole?
It needs investor money. That investor money will have to come from somewhere. Where will it come from?
The most cash-rich entities in the world are sovereign wealth funds. China's Saudi Arabia's and Singapore's are at the top of the list. The Chinese and Saudis already own tons of our government debt. If they now become large stakeholders in our banks, they will own our banking institutions as well – but only the profitable ones. They will not invest their money in failing smaller banks that are not as well capitalized.
What will these smaller banks do?
They will fail.
When Average National Bank fails, and you happen to be a depositor there, the FDIC is supposed to guarantee your deposit up to $100,000 – but will it be able to do that in a real crisis? For you, probably – but what happens if a lot of other banks fail as well?
The FDIC currently has assets totaling some $53 billion from which to satisfy these potential federal deposit insurance claims. Let's make a simple calculation.
The FDIC covers basically money in checking and savings accounts plus CDs. That description happens to coincide largely with what constituted "M2", the second largest measure of the US money supply. As of May 2008, M2 stood at $7.6 trillion, or $7,600 billion. Since most money is held in checking or savings accounts or in short term time deposits, M2 pretty much delineates the amount of insured deposits out there in America. 7,6 trillion bucks is roughly 150 times the amount available to satisfy potential deposit insurance claims – less than one percent coverage.
In other words, if a sufficient number of banks fail to cumulatively account for less than one percent of total insured deposits, the FDIC will run out of funds to cover the loss!
RBC Capital Markets analyst Gerard Cassidy calculated in February that as many as between 50 and 150 US banks could fail before 2010, most of them sporting no more than a couple of billion in assets. If his lower estimate is correct, and all of them hold no more than 2 billion of assets, you already know what will happen.
No more FDIC.
The Fed will have to step in, emergency legislation will be passed, and more control over financial matters will default back to the Fed/government.
Meanwhile, Hank (Mr. Hanky) Paulson is out there trying to convince banks that they won't be bailed out by the government if they fail, only if they file bankruptcy. What on earth does that mean??
Very little. He is blowing hot air, just like he blew hot air at the dollar recently. He is trying to convince banks not to play it too close to the vest and not to take too many risks, expecting to get bailed out anyway if the you-know-what hits the fan.
SECTION THREE: NON PRECIOUS METAL INVESTMENTS
Brazil's Stock Market:
If you like stocks and take a look around the world in search of good places to invest, Brazil jumps out at you so hard that it makes you think you've just been mugged.
Here is a look at its biggest stock market, the BOVESPA: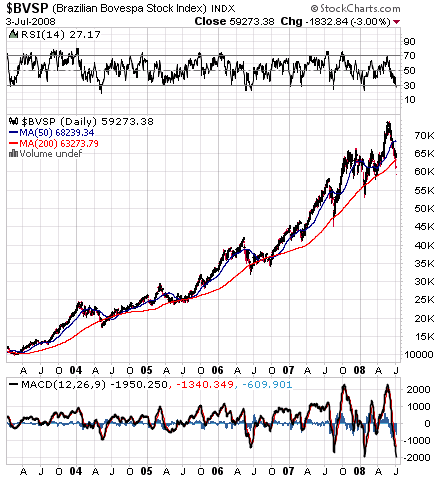 There is a danger of this chart developing a huge head and shoulders pattern over the next few months or even a year from now if the index moves sideways within a narrow band between the 60,000 and 65,000 levels. Given the worldwide economic uncertainties of this period, that is a considerable likelihood. Yet, when compared to most stock markets around the world, the BVSP looks about as good as it gets.
Here are some salient facts about Brazil's market environment:
BOVESPA keeps rallying as only major stock market in the world.
It is the 3rd largest Stock exchange in Western Hemisphere and the largest in Latin America.
S&P just raised sovereign credit rating of Brazil to "investment grade for first time in history.
Increased integration and opening to each other of SA investment markets boosts resilience to worldwide stock shocks and to US subprime crisis.
SA is talking about currency integration.
Brazil has only a 2.5% export exposure to the shrinking US market.
It is the default location for international investment flows because all other stock markets suck air.
Brazil's most powerful company that is traded on the BOVESPA is the 55% state-owned but publicly traded PetroBras (PBR). PBR has just found the largest oil deposit discovered since 1976, near the already plentiful Brazilian Tupi oil field with 8 billion barrels of proved reserves, of which PBR owns 65 percent. This new oil field called the "Sugar Loaf" field is the latest in an entire string of discoveries in Brazil in which PBR holds a stake. It is estimated to hold 33-40 billion barrels of oil, and best of all, it is light crude oil, the oil that is easiest (and cheapest) to refine.
It will take years to bring all of this oil to production, but it is pretty clear that this discovery will make PBR stock owners a nice bundle while saving them and the rest of the world money at the pump a few years out. This will probably help to eventually put a cap onto the huge oil price increases of late.
Here is PetroBras' chart: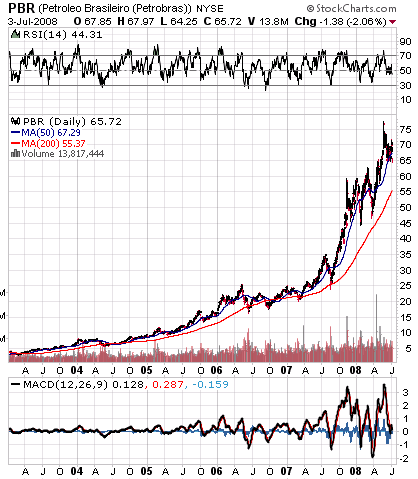 On the downside, it will also redouble efforts of US "free traders" to try and forge a hemispheric economic union so the big Wall Street honchos can gain energy-supremacy in the world.
I have never recommended any non-precious metal stock before, but Petrobras seems as sure-fire of a bet as any company could want to be. That, combined with the advantageous position of the Brazilian economy in general, will make ignoring PBR's potential a risk not worth taking for anyone.
SECTION FOUR: PRECIOUS METALS OUTLOOK & FORECAST
1. Gold & Silver:
Gold and silver took a small, opportunistic hit today. The apparent intention of Tricky Trichet's comments on the ECB's action in hiking the euro's rate to 2.25 was twisted beyond belief. I guess traders just wanted to believe that this would be their only rate hike this year, so when he didn't exactly come out and promise additional ones, they took this to mean he wasn't going to.
Problem is, he has already said as much when he indicated euro zone inflation is expected to be "explosive" earlier this week. He can't afford for the euro to go up too hard too fast, so he didn't repeat himself.
At the same time, the US job loss figure came in worse than expected, but not "too worse", if there is such a thing. Expected were 60,000 jobs lost, and the actual figure was 62,000. Somehow the financial press talking points passed out in response maintained that this was a "big relief" for the dollar, and the dollar index jumped 70 basis points. Even Kathy Lien of Daily FX was heard to say that "anything below 100,000 was dollar-bullish." Maybe she just misspoke and meant "dollar-bullshit." I don't know.
Anyhow, this nice piece of propaganda did nothing to thwart the ongoing breakout of gold from its June triangle pattern. It did keep gold from passing its area of minor resistance on the way back to $1,000 per ounce, though.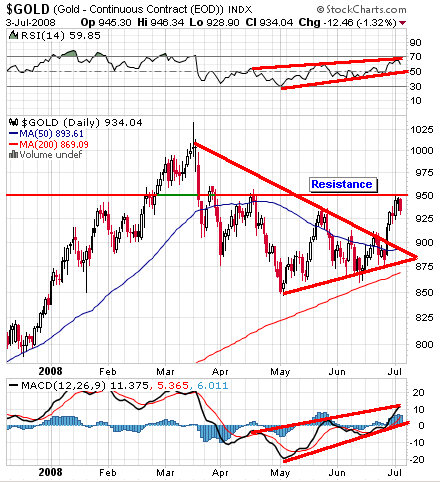 A similar picture emerged with silver: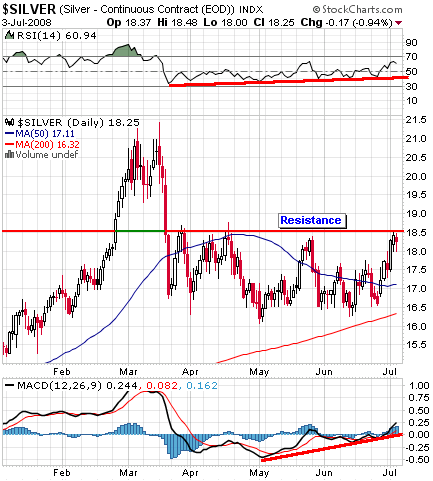 In both cases, once that resistance is broken, and especially in the case of silver, nothing stands in the way of regaining the mid-March highs.
Gold Shares:
Gold shares retreated as well after briefly poking through their own resistance levels, as you can see below in the XAU, which is not very far from its March high at all,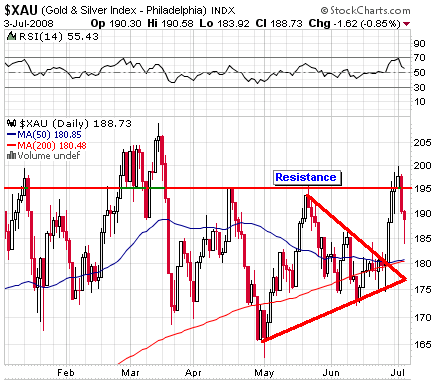 and the HUI as well, which has a little further to go and which has yet another level of resistance to overcome.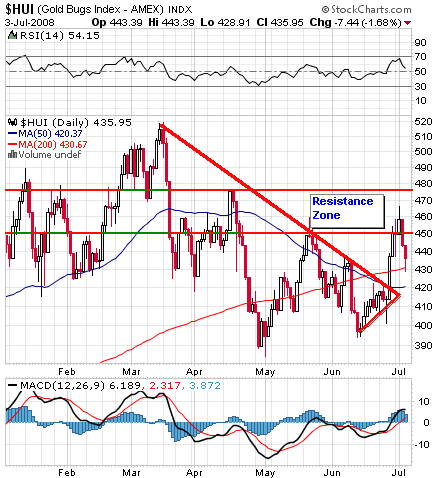 What is very suspicious, if not auspicious, is the fact that yesterday, both PM stock indexes retreated big time in the face of advances for both gold and silver. Mystery of mysteries. What can it mean? Could it be that sworn PM manipulators are turning to messing with the PM shares indexes instead of the metals themselves? Do they recognize how much of a threat these stocks pose to the regular stock market's general welfare?
3. Bonds and Rates:
Treasuries have had quite a run recently, mostly as a result of the wholesale exit of investors from the US stock markets. Good for the paper system, for that's where money is supposed to go when stocks falter. Too bad that none of the treasuries charts made it past their red 200-day moving averages, as you can see in the following charts. Here is the 5-year note: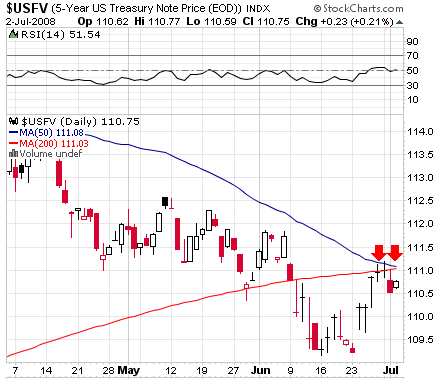 This is the 10-year note's chart: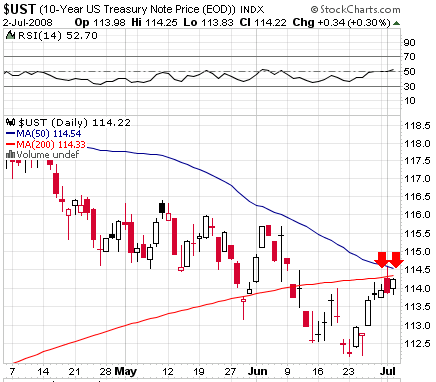 and here is the 30-year bond: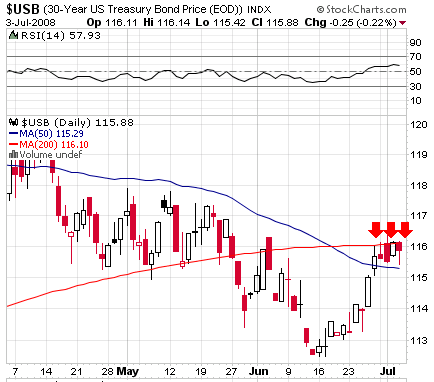 Pretty astounding, no?
If these respective resistance levels hold, there will be a fairly serious downturn in bonds to accompany the eventual resumption of the downturn in US stocks, which had just a little bit of a breather this week as they plunged all the way into oversold territory, from which they will have to recover before they will drop much further.
Bond Investors Disoriented
The recent "cap" on gold shares appears to be a result of alarmed, disoriented and confused bond investors storming back into the burning barn instead of wisely keeping their money in gold stocks.
Old habits die hard. The notion that US bonds and notes are "safe haven investments" has been drilled into their subconscious so powerfully that the kind of equities meltdown we have seen in the Dow lately puts their flight response on autopilot. Like a scared horse during a barn fire, they are storming right back into the inferno.
The fact that in recent days money has been flowing out of PM shares and into long-term treasuries indicates that my theory about the gold shares outbreak is indeed correct. Gold shares rally the most when money is flowing out of both US equities and government debt simultaneously. Today, Wednesday July 2nd, there is some indication that a short-term relief rally in US equities is drawing money out of gold shares as well. Both the XAU and the HUI are off quite a bit during mid-morning trading hours, while gold is off a couple of bucks. All of that is happening in spite of dollar taking on more water on its way down to the bottom of the as yet unexplored ocean floor.
In this climate, nobody knows where to go, actually. Terms like "structural breakdown of the US/world financial system are being thrown around by the truckload – and there is indeed a big danger of that happening, as the following exposition shows:
US Stocks:
Among the US stock indexes, the Dow, the pride and joy of the financial news cartel, is faring the worst, having already broken way below its most recent lows from March: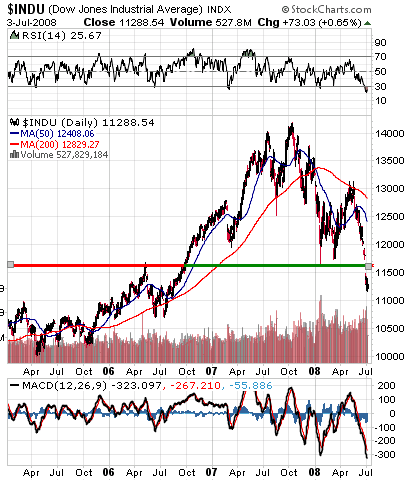 The NYSE is looking only a little better, hovering right before its support from the March doldrums.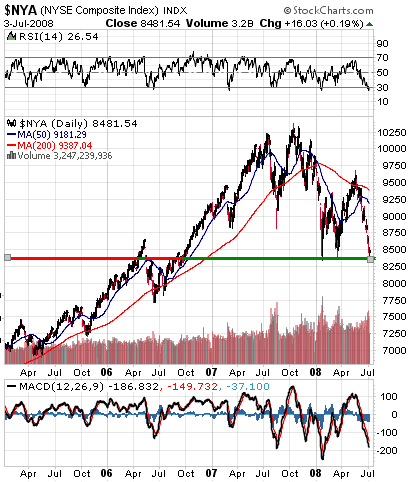 The Nasdaq actually looks best among those three, having still a little ways to go until it gets near its recent lows: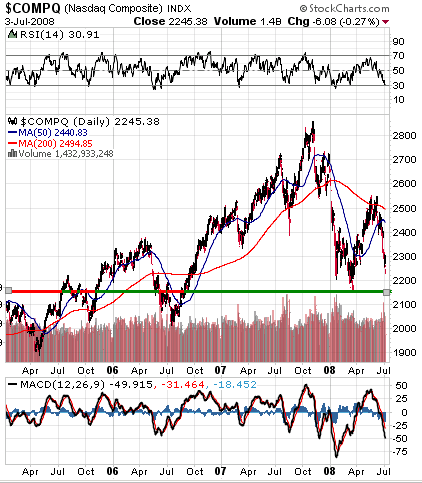 while the Standard & Poor looks rather like the Dow, except not quite as bad when it comes to penetrating recent lows.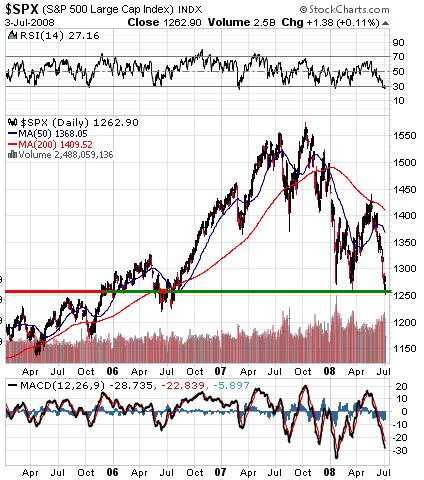 With exception of the Bovespa, international stock indexes don't look much better than the US markets. They just didn't get quite as far ahead of themselves as the American ones did - so they have less far to fall.
Naturally, the Bovespa's stellar performance could set it up for a tremendous fall from a purely technical perspective, especially if that head-and-shoulders pattern develops, but the fundamentals do not really support that.
Oil:
Oil will some day surely come down - and come down hard. I would hate to try and time that occurrence, though. I've eaten crow before, trying to do that.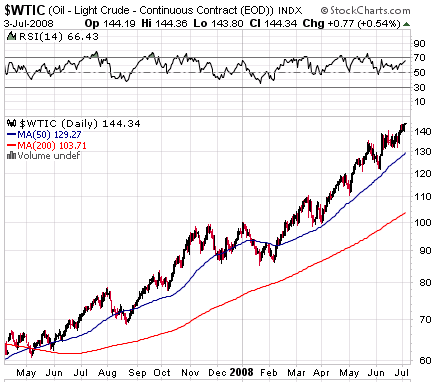 Platinum:
The Platinum group of metals has underperformed during gold's recent breakout. That is either a good sign, or a bad sign.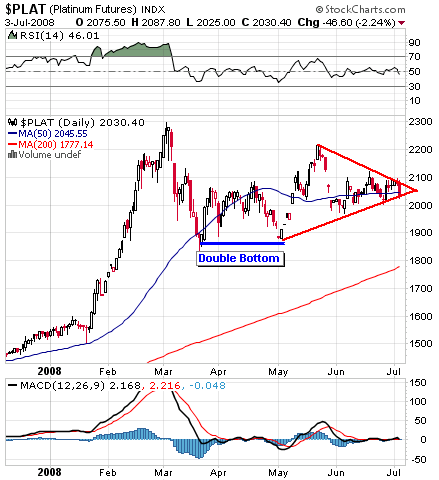 From a purely technical perspective, this looks great: A double bottom followed by a bullish triangle, and we're just now in the apex of it all.
The problem is, though, that platinum is ordinarily an industrial metal. Whether it will break up or down from here will answer either one of two questions: (a) to what extent platinum is becoming more of an investment metal, and (b) to what extent is its industrial use breaking down because of the worldwide economic recession.
If it breaks out to the upside, it will be huge. If not, it will probably turn into a sideways deal as industrial demand is only imperfectly replaced by investment demand. I don't feel confident to make a call on this at this time.
SUMMARY:
The US banking sector is under huge pressure, as is the British one. How exactly all this will play itself out is any body's guess. A full-scale collapse of the US system cannot be ruled out, however.
If that happens, and it could happen this year or next in my view, any money you have in US checking accounts, savings accounts, CDs, IRA's, 401k's, or in a pension fund, could be wiped out to a very large degree.
Conversely, it is possible that the sector will undergo no more of an upheaval than the savings and loans did back in the eighties. Because early withdrawal penalties from retirement accounts are so high, and because the IRS will surely claim its "take" as well, I cannot recommend simply taking all of the money out. That is a decision you need to make for yourself. For retirement accounts, a viable and safer alternative could be to set up a self-directed IRA and fund it with US gold and silver eagles coins. At least they cannot disappear quite as easily.
See you next month.
Alex Wallenwein