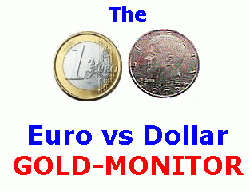 March 2008 Issue (#44)
Gold Stocks Are Still Bad News
Yes, gold stocks have now finally overcome their previous highs from January and November last year, but that's nothing to brag about when you compare it to gold's performance, and especially that of silver's.
Friday, February 29th, was a perfect demonstration of their persistent inferiority as investment vehicles for people who want to build wealth. Just because gold early on had a mild downward bias in its very tightly ranging trading action, the HUI and XAU thought it was the end of the world and ran for cover, losing their pants on the way. When gold later reversed and began a slightly upward sloping range, the stocks hardly budged, too scared to come out in the open.
Of course, stock's don think, and they don't have feelings, and neither do their exchanges - but people who trade them do, and their actions determine what happens to stock prices.
Traders have confidence in gold and silver. They have very little confidence in these metals' producers' ability to turn significant profits in the age of rising fuel and transport prices and other factors of production costs. And the big drag is still declining ore grades and insufficient discovery of replacement deposits.
If you are still dreaming of giant gold stock profits, better wait until it is very, very clear that US stock market refugees no longer have any illusions whatsoever about running to treasury bonds. Right now, that moment has not yet arrived.
The stage is set, but the actors are still squabbling with the director behind the curtain. The actors are stock investors fleeing their favorite playing ground, and the director goes by the name of "inflationary expectations." He is telling the actors to get on stage and do their thing, but they just don't feel like it, yet. They don't like it when the harsh stage lights are revealing their dreams of safety in a closed system that consists of stocks and bonds.
They are simply not trained to look for opportunities outside that system, so the transition period is a difficult one for them. Hey are like pill freaks, caught between alternately taking uppers anddowners.
In the last two trading days, 10-year note prices have risen significantly. 30-year bond prices lessso, but their move was in the same direction.
There is always the distinct possibility that it wasn't bond investors who bought these debtpapers, though. It might very well have been the Fed brothers, trying their darndest to keep longterm rates at bay and to perpetuate the illusion that bonds are "safe".
Besides, doing so would help further their apparent goal of completely destroying the dollar.
Looking at the TNX (1-yr note yield) chart, we can see that another downturn is in motion. Thisdownturn will likely lead to the formation of a double-bottom in yields/double-top in 10-yr notes,from which rapidly rising long term rates will be launched.
If that ends up coinciding with a powerful rally in gold stocks, it will form the clarion call forinvestors to come back into the gold shares and mutual funds. Before then, I just don't trust thatmarket segment. After that, it will be good to devote a portion of your assets to riding this waveup and take advantage of this new investor mania.
For, that's all it will be. No matter how high actual gold prices go, the producers' ore grades,deposits, and production costs are not going to improve, so the fundamentals will be as bad asthey are now. It's just that the gold stock mania that will ensue will be so powerful that it wouldbe insane not to take advantage of it.
It will be the 'South Sea Bubble' of gold stocks, and as with all bubbles, the most important thingwill be knowing when to sell. I will try my best to I've you plenty of advance warning time as weget closer to that point.
In the physical gold market, however, the fundamental outlook and investment posture, and thesuccess of your strategy, will continue to depend on whether or not you know when NOT to sell.
GOLD: A Powerful 'Non-Mania'
Gold's powerful, secular bull market will be a multi-decade bull market. If our efforts with theSmall Business Goldmine will enjoy any kind of success whatsoever, it may well turn out thatgold and silver regain their actual currency function. (Yes, there always will be the possibilitythat "father state" will come in and try to "outlaw" the entire gold market, but since when wasthat ever a reason not to try something, not to fight for something you believe in and try toprotect yourself as best as you can?)
In normal times and under normal conditions, the old investment maxim "buy low, sell high"will always apply. Knowing when to buy will be as important as knowing when to sell.
In a secular bull market of the type we are now experiencing, though, "knowing when to buy"becomes far less important. The point is that in such a market it doesn't matter when you buy.Just keep on buying, no matter how "late" in the bull phase you think you are.
Let the herd think they can "profit" from selling whatever gold they have at the current pricelevels (and all the way up to $2000/oz for gold and $100oz. for silver). It makes no difference.They just make that much more gold available for us to buy. They will buy their gold back againat double the price they sold it for when they realize what this bull market really is: a tectonicplate shift in investment thinking.
Gold Commerce - World Wide?
By the way. Speaking of the Small Business Goldmine. It would be a great idea to go back andre-read the pages linked to from the top ten navigation buttons on the left hand navigation bar ofthe web site that hosts this newsletter (if you are reading the pdf version at this moment. Otherwise, just look to your left right now).
I have re-written and restructured all of the pages that deal with getting businesses and theircustomers to start using gold and silver as currency in selling and buying online was well asoffline.
After turning this entire problem over and over in my head I have come to the conclusion thatoffering deep, permanent discounts on all products and services is the way to go for businesseswho want to build up a nice stash of gold and silver without actually having to pay for it out ofpocket - and without having to work much for it!
I used to think that double-pricing of products in both fiat and metal currency (i.e., dollars andgrams) was the key, but that does not provide an immediate incentive to customers.
Without that immediate and obvious incentive, "education" plays too much of a role, and peoplegenerally don;t care to be educated or to educate themselves about something that, to them andfor all they know and care about, does not directly affect their lives.
But give them a real and powerful incentive, and they not only pay attention - they act!
So, instead of double-pricing goods and services, simply offering a major discount to customerswho pay with PM (precious metal) currency, at whatever spot price the metals bring on any givenday, is the best way to get them to pay attention.
Once you decide that you will buy something, if you are given the opportunity to buy it for 25 orwhatever percent less if you pay with gold, you will think twice about it, at least.
If you then know that this conditional discount will not go away, it makes sense to undergo theslight inconvenience of getting a free online digital gold or silver account and to fund it.
What do customers want more than anything in recessionary and inflationary times, wheneverything gets more expensive and there is less money to go around to pay for it all?
Discounts!
I recently sent out an email to Monitor Members asking a number of questions about your ownsituation, i.e., whether you are in business for yourself or hold a high-level decision makingposition in one. If you haven't had a chance or the time to answer these questions, yet, I wouldlike to ask you again to do it as soon as you can. The success of the Business Goldmine Initiativecan significantly improve your investment gains. This is the time and the place for such aprogram, but I need to find out specifically how business owners perceive the idea. I wouldtherefore greatly appreciate it if you take a few minutes to answer these questions.
Here they are again.
Do you own a business of any kind, or are you in a highly placed management position in any company?
Do you appreciate the need for businesses to earn gold and silver (G&S) alongside fast evaporating dollars? (If not, please state why not.)
Do you or does your company currently accept G&S payments in any form, whether online or physical? (If yes, please let me know, so I can put your company on our in-house list on the web site)
What do you, as a Monitor Member and gold investor, see as the top three impediments to your company accepting G&S payments from customers?
If you are not already accepting G&S payments, would you be willing to begin too accept them, either in digital or physical form? If not, why not?
What can I do to help you in your efforts to begin doing this? What do you need that the SB Goldmine doesn't already provide?
Do you think the project is unrealistic. If so, please state why.
It would be extremely helpful if you could answer these questions.
This is a major deal for the gold world. If you have not already read it, I recommend my latest editorial on gold commerce, titled "The Next Step: 'Gold Accepted Here'" for your reading pleasure. It lays out the thinking behind this effort in detail. With the buyer incentives taken care of by the discounts and the apprehension over temporary gold-downturns alleviated, the entire concept of what used to be the "education-barrier" (i.e., why should ordinary people care about gold if they can pay with fiat just fine) has to be reevaluated.
Gold Demand
Gold demand demographics are shifting rapidly. India is still the number one consumer, but China has replaced the US as the number two consumer of gold, as you know. Although Julian Phillips in his latest essay has made a convincing case that India will probably not become anexporter of gold for a long, long time, the idea of Indian gold demand going down, possibly tothe point of ceasing altogether, has to be a major concern for non-Indian gold investors.
So far, Chinese demand and investor demand have completely supplanted Indian demand. Itshould be repeated here for clarification that I consider non-western jewelry demand asindistinguishable from investment demand. This is so because Asians and Indians generally buytheir jewelry for investment, or rather wealth storage purposes. They only prefer it in jewelryformat because it gives their gold an added use at little additional cost.
Now, here is a thought that should make every gold investor rub his grubby little hands togetherin delight:
China is beginning to experience significant price-inflation problems. Naturally, that was totallyforeseeable because the government has been putting both Greenspan and Bernanke to shamewhen it came to running the electronic printing presses for the past ten years at least. That's whatfueled their economic boom - aside from the fact that US and world demand for their cheap laborhelped in placing all of that government-decreed money.
Now, guess what that means for Chinese laborers and the "nouveau riche" wheelers and dealersand other state-sponsored communo-capitalists? It means their yuan's or renminbi's purchasingpower is declining, just like the dollar's.
But, fortunately for the Chinese, as is true for almost all Asians, they have retained a much bettergrasp of the value of gold in precisely such situations. They know that gold is always good toown. They have never forgotten that governments and currencies are fickle creatures. Many evenkept their gold under decades-long communist rule. What else is a poor peasant to do when thestate officials come knocking, threatening to take everything you got and then some? You have tohave something to bribe them with.
Anyway, with their cultural and political reasons for favoring gold, the Chinese are going tofavor it even more, and much quicker and more intensely now that prices are going up everywhereand their beloved yuan aren't buying as much anymore. Here in the West, we rely on the mutualfunds to make the really big moves in the gold price happen, but in China, it's the regular schlobswho will drive the price.
Add to that the Chinese government's own admonition to its subjects that they should be buyinggold to prepare for the eventuality of a currency collapse (don't you wish our government gave usadvice like that?), and you have the makings of a new number one gold importer of the worldbefore your eyes.
My guess is that by 2009, at the latest 2010, we will read in the news that China has passed upIndian gold demand - because the Indians are now busy selling their inheritance to their stockbrokers.
Julian Phillip's analysis has actually provided yet another piece for the completion of this puzzle:According to him, Indian's won't become gold exporters because they simply can't. When afarmer takes his accumulated gold jewelry to the dealer to sell it for scrap and make money in thestock market, the dealer has to fill out copious paperwork and report the purchase to thegovernment and pay a hefty tax on top of that..
Needless to say, they don't like that. In addition, India has stringent export restrictions.Everything has to be reported, and everything is taxed.
That means the gold will stay in the country. Phew! Good for world gold prices - but bad forIndian gold prices. All that private bullion supply being brought to market, and nobody to buy it.Where are Indian gold prices going to go? Nowhere but down - and that will depress theirlegendary gold market even more, which all could mean that India will drop way down the list ofthe world's top gold importers.
My guess is that some of the old camel and donkey trade routes across the Himalayan are goingto be revived by smugglers trying to get all that gold out of India, where demand is subsiding, toChina, where demand now is and will continue to be booming.
I fully expect this trend to result in a rather smooth price chart for gold throughout 2008 as Istated in the February 9th update, but it is a bit early to say so for sure.
Gold Outlook for 2008:
Gold's behavior in 2008 will be radically different from whatever it has exhibited so far in thissecular bull market. The seasonality-factor will be less severe than it has been in prior years; thatmuch I am confident in predicting. There may still be a fairly significant mid-year price drop, butit will not be anywhere near as bad as that of 2006.
Another indication of that is how completely and disdainfully gold showed its contempt for thesilly stunt pulled off by the IMF. It was as if the IMF had never made its announcement of the intended gold sales at all. The timing of the announcement must have been an attempt to prevent gold from going over $1000 an ounce too fast - but things sure don't look like they're working out that way.
There were several reasons why this didn't work out.
One: There is just too much demand right now. That demand is more investment-driven than ever since this bull market began in 1999.
Two: Although a lower level treasury official made noises that the US "supports" the sales, the reality of such support, if any, does not come from the administration of which the treasury is part, but from Congress, over which treasury has no influence. The statement was therefore essentially irrelevant.
Three: The treasury statement was auspiciously (suspiciously?) timed to coincide with news that US home sales in January were "not as bad" as expected, which gave the dollar a boost, which in turn is sometimes a negative for gold, just so the news could report that gold dropped upon themaking of the treasury announcement.
Four: The sales are supposed to be made - if the normally adverse US Congress were to agree tothem - instead of Washington Agreement central bank sales quotas for 2008, so they would havelittle impact, anyway.
In other words, a lame diversionary tactic that no one paid attention to, anyway.
The Near-Term Outlook:
I believe gold has continued upward pressure under it, but silver has been overbought since itbroke out of its uptrend channel on Monday February 24th, and now is getting seriouslyoverbought. It can stay that way for another week or so - maybe, if conditions are right - but itwill very soon have to correct.


.


Gold itself is just beginning to get overbought and so has while longer to go, but if and whensilver corrects from here, it will correct significantly, and the resulting drag on gold can easily beexploited on the downside by anti-gold forces.
Now, if you still own any gold stocks - and some of the newer Monitor members haven't been exposed to my barrage of warnings yet, so they well may, you had better get out quick!
Just take a look at the HUI and XAU action on Friday. Gold barely subsided a bit in London and coming into the early New York trading session, but later reversed its course, ending up with a slight gain.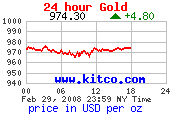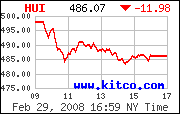 Yet, the HUI gave up almost 12 points and the XAU lost over six. As I said: bad news!
Is that reason to sell gold or silver, though? Not at all. All indications are that we are on slopeNo. 3 on the chart from the February 9th Update, but have progressed to a point where its lowertrendline would be breached at about $900 or so, up from $850 then. That's how steep it is.So, if you are thinking about buying significant quantities of silver bullion soon - wait. Moreimportantly, if silver does not correct as expected and continues upward, wait nevertheless! Youcan gain much more of an advantage by waiting than by buying now.
The chart below shows silver's new upward slope since August last year when the current up legin precious metals started. Yes, silver has been leading the charge of late, but that has not yetfully established itself yet in my eyes. I would expect that the coming correction in silver maytake it down to between 16 and 17 dollars. In fact, the sooner that happens, the happier I wouldbe because that would be very refreshing.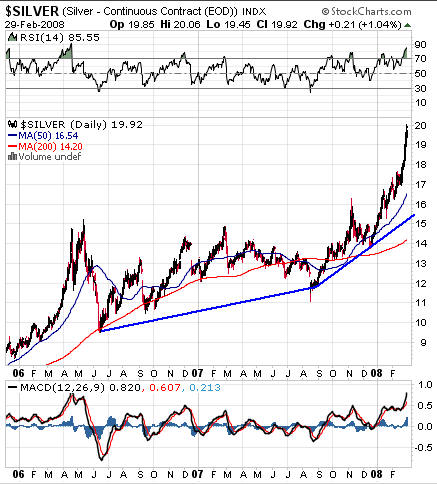 If silver sheds only a little bit in this coming correction, say back to between 18 and 19 dollarsbefore moving back up and charging ahead, the next correction will be much more severe, andfar deeper. Silver is extremely fickle and volatile. I consider it to be the "penny stock" of theprecious metals. It should be treated with the necessary caution if you are trying to time themarket. Otherwise, just do your regular cost-averaging program, and and ignore the swings. Youhave nothing to fear over the long run.
A Capital-Guaranteed Gold CD
I know some of you are familiar with Everbank. I wrote about it and recommended it years agowhen they came out with euro-denominated certificates of deposit, which were a nice alternativeto the dollar before 2005. Since then, I haven't paid much attention to them until a subscriberrecently told me they now have a number of interesting and new (to me) investment vehicles Ifeel you should now about.
Everbank offers gold-based CDs that supposedly offer some downside protection, i.e., you cannever lose your original capital invested in them. That, however, comes with decreased upsideexposure that limits your potential gain from market swings to the upside. The 100% retention ofyour capital is guaranteed by Everbank, although it is not FDIC insured. You can find moreinformation on that product here: http://www.everbank.com/001CertificatesMS.aspx (Disclosure:I have no exposure to any Everbank-issued investment vehicles, or to Everbank stocks of bondsof any kind.)
In addition, they also offer commingled and allocated gold holdings. Their allocated gold holdingis capable of being set up as part of an IRA that allows funding with American Gold or SilverEagles coins - the only form of physical gold holding authorized by the IRS to be included in anIRA.
Gold-Funded IRA's:
Gold funded IRAs are a great way to diversify out of - or altogether abandon - your 401kinvestment vehicles, which can only contain paper assets that will be prone to serious downsiderisk in the very near future. These are a great place for your proceeds from selling your gold andsilver stock holdings, should you choose to do so, or if you have done so already.
In order to make this happen, you need to set up a self-directed IRA with a licensed trustee orcustodian. Unlike a traditional IRA, you will make all the investment decisions and the trustee orcustodian will make sure all federal filings, etc. are done on time and in the correct manner.
There are only a few custodians that offer these services, and they differ widely in the fees theycharge for their service. .These custodians act like caretakers. Ordinarily, they do not themselveshold the property invested in the IRA. Some do, however, like Everbank.
The company is basically a privately owned mortgage lender that has focused its activity on theInternet, offering accounts that can be operated and accessed from anywhere, but without aphysical bank location to go to.
Because it is privately held, it is hard to assess whether Everbank has any significant exposure tothe subprime mess. As a privately owned company, they have no public filings. Doing a GoogleNews search on the key phrase "Everbank subprime" no .articles relating to subprime involvingEverbank came up. The only outright reference I have found to their exposure was a remark inHoweStreet.com's "Penny Sleuth" that simply said:
"It behooves everyone to diversify their accounts among institutions and regions. Ican see certificates of deposit backed by precious metals as something you?ll want to load up onthis year. Our friends at EverBank should not experience the troubles that many other, less wellrun banks may encounter.
I am waiting to see if I can get more information from the author. All I can say at this point is thatI have never heard anything negative about this bank until now, but that can easily be becausethey are small, private, and therefore not in the major news cycle.
A Houston company named American Church TrustCompany has all the forms and information required for you to set up and fund your selfdirected IRA with gold eagles. As always, use your own due diligence. I am not recommendingany of the companies discussed here, nor do I get any remuneration, in kind or otherwise, fromthem, nor do I have any investment exposure to them. I am strictly providing informationconcerning them that I think will benefit your investment outlook.
Gold-funded self-directed IRAs are excellent vehicles for gold investors who have their moneystuck in a 401k invested in gold stocks. After you create the IRA, your 401k funds can be rolledover into the IRA without incurring an early withdrawal penalty or other negative taxconsequences. It is important that the rollover be performed by a competent investmentprofessional like a certified financial planner, for example - unless you feel competent to do ityourself. I do not perform these services.
Dollar-Dollop
The dollar is in super-dangerous territory here. It has not only broken below it most previous lowat 75 on the USD Index, but even broke down from the lower flank of its hyper-bearishdescending triangle going back to 2005.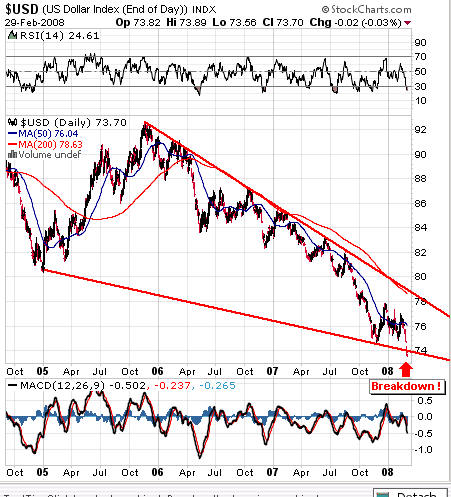 What's worse, it is now hyper-dangerously close to the lower trend line of the multi decade-longdeclining trading channel dating back to 1973. As previously noted in January's Monitor, thatline is its last-ditch, hanging on by the skin of its teeth, do or die support. I shudder to think whatmay happen if that is breached, and it looks like we are only days or weeks away from that point.
When that happens, of course, all bets are off. Chartist considerations like trading in oversoldlevels, etc., are simply not capable of limiting such a breakdown. "Overbought" can then go onfor weeks, and even months, with no end in sight.
There isn't any more to be said about this. What will happen in such a case, when a world reservecurrency's destruction goes into overdrive, has no comparison. The old "German exampledoesn't even begin to describe the dislocations that are possible from this. Back in Germany inthe 1920s, there was no such thing as a credit card. People owned their homes. Few had amortgage. (People used to save in order to buy things once, remember?)
Yet, because of the fact that the dollar is still the reserve currency of the world, all the Fed needs to do to "save" it, albeit temporarily, is to make a surprise hike of, say, 75 basis points.But guess what will happen to the US credit markets and the economy when Bernie does that?
It will be an admission that inflation is out of control - and that the Fed is incapable of doing what it has trained us to believe it can do to keep the economy on an even slightly even keel.
We are in an election year. Of course the Democrats will blame the Republicans for the mess, the voters will be stupid enough to buy the story (particularly the part that the Democrats are going to do any better), and they will throw virtually every Republican left on Congress out on his or her ear.
With Obama in charge and the Dem's in control of every nook and cranny of the centralgovernment, our assimilation into the UN's Empire of the Borg will be a forgone conclusion.
Greenspan Rats On the Greenback
Big Al, the Green one, is traveling in the middle east telling the UAE finance ministers and central bankers they should drop the buck in the bucket and stop pegging their currencies to the dollar. That's like the US ambassador to Russia telling Putin he should stop being so nice to the US and start the nuclear arms race again.
On Monday, February 2, he spake at an investment conference in Abu Dhabi. The Saudi central bank governor replied that "floating the Saudi riyal would not be appropriate for an economy that relies on oil exports" in an apparent attempt to smooth the waves a bit. What he did not say was that Saudi Arabia would never go off the dollar peg, for shifting the dollar-peg to a euro-peg would still be within the confines of the possibilities intentionally left open by that statement.
Al and Ben are a team, you know. Ben continues A's legacy of driving the dollar into the ground, while Al goes around the world telling other countries - especially oil producing ones, that they don't really need the dollar anymore.
Sure, in a strictly economic sense, Al is right. If the UAE countries dropped the peg (i.e., stopped moving their interest rate policy in accordance with the US), inflation would be much less of a problem there. That is so because lowering their interest rates dramatically, more or less in sync with the Fed, all the while raking in huge profits and trade surpluses because the oil price has quadrupled since early 2005, has brought their inflation rates up to near 10 percent. Saudi Arabia's is running at over 7 percent.
So, if he's right, who could blame him for doing that? No one - except maybe every American who has to work for and spend dollars to live.
The middle eastern oil producers' dollar pegs are the only institutions still giving the dollar any support whatsoever. Kuwait has dropped theirs, already. The UAE are talking about a common currency, which would necessitate dropping the peg by definition. Iran has already dropped its peg and trades for various, non-dollar, currencies. Venezuela is doing the same.
Once the pegs are gone, these countries' currencies can appreciate against the dollar. When they do, oil prices will go even higher for Americans. This does not mean they will immediately abandon the dollar as their favored currency for trading oil, but BIS (Bank for International Settlement) data in December have shown a decrease in combined dollar exposure among OPEC countries.
The amount of combined dollars they held in reserve decreased from 67 to 65 percent overall. Here is how the Financial Times put it:
Such shifts may be modest compared with the total assets held, but they provide a crucial indication on future thinking. Currency switches are likely to be progressive, subtle and discreet, as untoward attention could hit the dollar, lowering the value of depositors' remaining dollar-denominated assets
That is the entire secret to the matter. OPEC countries will not suddenly announce they are turning their backs too the dollar, but the writing is definitely on the wall. The freed up dollars hit the currencies markets and are looking for a place to go. We are talking about 5 billion or more here.. That additional "liquidity" if you will is driving the dollar down.
As they reduce their dollar holdings, they have less need to earn dollars and become more open to trading oil for other currencies. In fact, the dollar reduction means the very same thing. The dollars in their reserve holdings are slowly being replaced by euros and yen, in roughly equal proportions.
To the extent of their shifts in reserve policy, other countries who are trading for oil will increasingly be able to pay for their oil with euros and yen. That means the issuers of euros and yen will be the ones taking advantage of the opportunity because non-EU countries outside of Japan will still prefer to buy dollars to trade as dollars are getting cheaper while yen and euro are getting more expensive.
But for EU countries, this is a boon because they do not need to trade for dollars or buy dollars first to buy oil - and guess where the largest oil demand is outside the United States? Now, add to that the effect of a heavyweight like Alan Greenspan (in most people's eyes, anyway) piling in on the side of the UAE countries lowering their dollar peg, and you know where things are going.
These are the fundamentals behind the dollar's slide. They are on the one hand a guarantee that dollar demand will decrease as time goes on. Yet, they are also a guarantee that the decline will be gradual.
The bottom line is that any wealth you keep in dollar-denominated assets will inexorably dwindle in value. And it also means that those who get out early will save the most. Therefore, the sooner people start a consistent gold and silver accumulation program and start using gold an silver to pay for things to get discounts, and moving the businesses the frequent to accept gold and silver alongside dollars, the better they will be off.
Given these dynamics, the dollar, as it is currently constituted, simply cannot retain its worldreserve currency status over time. The process cannot even be stopped by US military power.That has been tried in Iraq, and it has failed. If we can make it through this year until thehandover of the presidency in January 2009 without attacking Iran, we will be spared another embarrassment like that represented by the Iraq attack.
I doubt any Republican will win the white house this year. Ron Paul has a good chance atretaining his congressional seat. That is nice for him, but it means he will never run as an independent or on a third party ticket - and that means any dreams of him winning the fall election are shot in the leg.
With either Clinton or Obama in the white house, the fiscal and tax policies that will come down the pike will be even worse for the dollar than Bush's policies. It will become imperative that Americans take their monetary policy in their own hands and start shifting to gold and silver commerce. It will be the only way to keep the economy on an even keel in the long haul in the face of what will hit it from the direction of Washington DC.
See you later tonight. I will post a weekly update even though this Monitor issue fell on a weekend.
Alex Wallenwein