Are you earning great profits trading
the EURO vs. DOLLAR pair?
How will you protect them from
DOUBLE-DIGIT INFLATION?
In the United States, actual inflation (i.e., not hedonistically adjusted by the government) is already at over 12 percent, as this chart shows: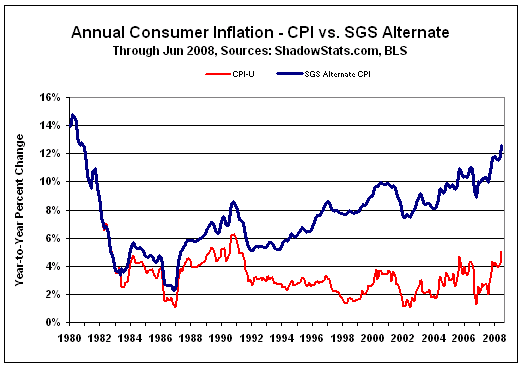 What will a +12% annual loss of purchasing power, year after year, do to your euro vs. dollar winnings?
Do you think the the US Fed will control inflation?
Think again! The Fed cannot raise interest rates fast enough because that would destroy the already weak-kneed economy.
Is Your Money Safe?
Currency traders share a common mind set that makes them excel at what they do, and that is an extreme short-term focus.

No matter in which currency you keep your profits, inflation is eating away at it - and inflation is rising fast, everywhere on the globe. The EURO vs. DOLLAR & GOLD MONITOR keeps you several steps ahead of the inflation threat.
How Can You Keep Your Money's Value?
There aren't many options. Your choice is basically between three great asset classes:
Cash loses value during inflationary times and can be devalued by government or central bank monetary policy;
Bonds are basically long-term loans to private or government issuers. These also decrease in price as inflation eats away at their value over time;
Stocks depend in their value on the issuing company's performance. During times of low-growth and high inflation, that's a hard bet to make!
Real Estate is dropping in value almost everywhere as a result of US-induced mortgage and credit crisis. The bottom is nowhere in sight;
Commodities are rising everywhere, but the prices of many are doomed to fall as economic expansion halts and reverses.
What Will You Do?
'Euro vs Dollar' means far more than just trading profits because the relationship between these currencies and their relative history are what is driving the current economic malaise.
Order this FREE 20-Page Report to get the ful low-down on how it all happened, why, and what you can expect as a result.
Read the report to discover:
The true hidden reason why the euro was launched, and what that means for the US dollar;
How modern money is actually created, and how that process threatens your future lifestyle, investment portfolio, and retirement income;
How misguided central bank policy created the real estate boom-and-bust and pulled the rug from under the US financial system - including your bank!
What the real cause of inflation is and how the US FED cannot help but create more of the same;
Why the US attacked Iraq and Afghanistan and currently threatens Iran – while leaving Kim Il Jong of North Korea (who really has nuclear weapons) unmolested;
What you can do to protect yourself from the 'two-prong recession' (where your home, stocks, and even money lose value while the things you need to live become unaffordable).
You Owe It to Yourself!
Without the knowledge contained in this free report and the continuing analysis of global and domestic monetary policy that the EURO vs. DOLLAR & GOLD MONITOR delivers, it will be very hard to correctly anticipate which assets classes are moving up or down in value and during what time frames - and that is what profitable investing is really all about.
Before Your Subscribe:
Please understand that there are a number of things the Monitor will NOT do for you:
Offer individual investment advice;
Offer money management services;
Offer trading advice on any asset;
Recommend specific securities;
Analyze individual gold or silver stocks;
Act as a broker or dealer in any securities;
There is a 60-day, full money-back guarantee if you decide for any reason that the Monitor is not for you. If you have any questions, please email me at any time.
125% Money Back Guarantee
If, for any reason, you feel that The EURO VS DOLLAR & GOLD MONITOR is not for you, just email me and ask for your refund within 60 days from your purchase, and I will refund your full purchase price plus an additional $50.00, just to say thanks for trying The MONITOR. In any case, you get to keep the two special bonuses below:
Two Important BONUS VOLUMES
Upon verification of your subscription payment, you will also receive two extremely valuable bonuses:
The

"Dollar-Crash Survival Toolkit"

(a $95.00 value) with inside information on a number of very specific ways to shelter your wealth from the ravages of the euro-generated dollar-decline, along with an extensive discussion of the "gold-confiscation" issue, PLUS

The e-book

"Euro vs. Dollar - The War on Your Wallet"

(a $25.00 value). This book lays out the true makings of the current world financial crisis. It lets you understand how the appearance of the euro forces the US Fed to inflate the dollar virtually out of existence.
In other words: You just can't lose by becoming a member of the Monitor family of investors!
To get a taste of what's coming your way, you can poke around in the public lobby to our Members'Lounge. From there, you can access several of our public services, such as a peek at the Monitor's Investment Philosophy as well as last month's Weekly Updates and Forecasts to check them against history and determine their accuracy. (Current month's updates and forecasts are reserved for Members,only).
I am looking forward to welcoming you as a new member of the Monitor Family.
All the Best,


Alex Wallenwein
Editor, Publisher
EURO vs. DOLLAR & GOLD MONITOR